St. Pancras.
11th April 1907
Page 19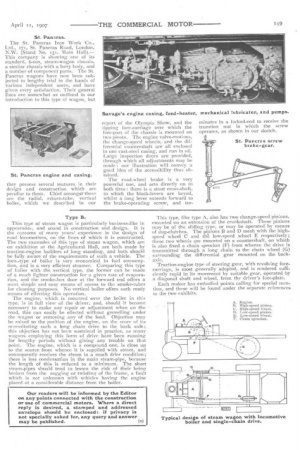 Page 19, 11th April 1907 —
St. Pancras.
Close
The St. Pancras Iron Work Co., Ltd., 171, St. Pancras Road, London, N.W. (Stand No. 151, Main Hall).— This company is showing one of its standard, 6-ton, steam-wagon chassis, a similar chassis with a lorry body, and a number of component parts. The St. Pancras wagons have now been subjected to lengthy trial in the hands of various independent users, and have given every satisfaction. Their general lines are somewhat as outlined in our introduction to this type of wagon, but they possess several features in their design and construction which are peculiar to them. Chief amongst these are the radial, return-tube, vertical boiler, which we described in our report of the Olympia Show, and the tipping fore-carriage over which the fore-part of the chassis is mounted on two pivots. The engine valve-motions, the change-speed wheels,: and the differential countershaft are all enclosed in one cast-steel casing, and run in oil. Large inspection doors are provided, through which all adjustments may be made : our illustration will convey a good idea of the accessibility thus obtained.
The road-wheel brake is a very powerful one, and acts directly on to bath tires : there is a stout cross-shaft, to which the block-levers are keyed, whilst a long lever extends forward to the brake-operating screw, and ter
minates in a forked-end to receive the trunnion nut in which the screw operates, as shown in our sketch.