Ulster Appoints Transport Authority
10th September 1948
Page 52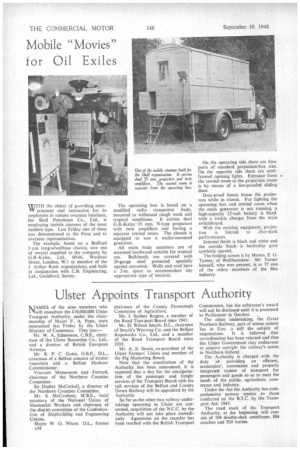 Page 52, 10th September 1948 —
Ulster Appoints Transport Authority
Close
NAMES of the nine members who will constitute the £10,000,000 Ulster Transport Authority, under ,the chairmanship of Major F. A. Pope, were announced last Friday by the Ulster Minister of Commerce. They are:—
Mr. W. A. Edmenson, C.B.E., chairman of the Ulster Steamship Co., Ltd., and a director of British European Airways.
Mr R P. C Gotto, O.B.E., D.L., chairman of a. Belfast concern of timber importers and a Belfast Harbour Commissioner.
Viscount Masse reene and Ferrard, chairman of the Northern Counties Committee.
Sir Dudley McCorkell, a director of the Northern Counties Committee.
Mr. S. McCoubrey, M.B.E., local secretary of the National Union of Sheetmetal Workers and chairman of the, district committee of the Confederation of Shipbuilding and Engineering Unions.
Major W G. Nixon. DI, former 534 chairman of the County Fermanagh Committee of Agriculture.
Mr. I. Sydney Rogers, a member of the Road Transport Board since 1941.
Mr. D. Wilson Smyth, D.L., chairman of Smyth's Weaving Co. and the Belfast Ropeworks Co., Ltd., and a member of the Road Transport Board since 1935.
Mr. A. E. Swain, ex-president of the Ulster Farmers Union and member of the Pig Marketing.Board.
Now that the constitution of the Authority has been announced. it is expected that a day for the amalgamation of the passenger and freight services of the Transport Board with the rail services of the Belfast and County Down Railway will be appointed by the Authority
So far as the other two railway undertakings operating in Ulster are concerned, acquisition of the N.C.C. by the Authority will not take place immediately Agreement on the transfer has been reached with the British Transport Commission, but the arbitrator's award will not be disclosed until it is presented to Parliament in October.
The other undertaking, the Great Northern Railway, part of whose system lies in Eire, .s still the subject of negotiations. It is believed that co-ordination has been rejected and that the Ulster Government may endeavour to acquire outright the railway's assets in Northern Ireland.
The Aathority is charged with the duty of providing an efficient, economica', convenient and properly integrated system of transport for passengers and goods so as to meet the needs of the public, agriculture, commerce and industry.
Under the Act the Authority has comprehensive powers similar .to those conferred on the B.T.C. by the Transport Act, 1947. The road stock of the Transport Authority, at the beginning will consist of 104 double-deck omnibuses. 884 coaches and 924 lorries.
Tags
Organisations
:
Ulster Farmers Union
,
Marketing.Board
,
Ulster Transport Authority
,
Ulster Government
,
Northern Counties Committee
,
Transport Board
,
Transport Authority
,
County Fermanagh Committee of Agriculture
,
Ulster Appoints Transport Authority
,
Road Transport Board
,
British Transport Commission
,
National Union
,
Confederation of Shipbuilding and Engineering Unions