Mobile "Movies" for Oil Exiles
10th September 1948
Page 52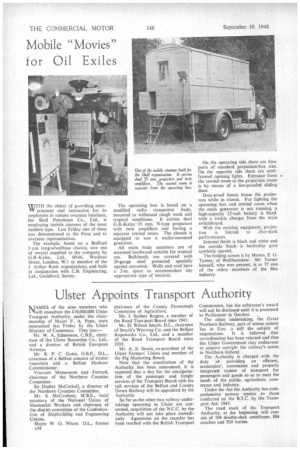 Page 52, 10th September 1948 —
Mobile "Movies" for Oil Exiles
Close
WITH the object of providing enter tainment and instruction for its employees in remote overseas locations, the Shell Petroleum Co., Ltd., is employing mobile cinemas of the most modern type. Last Friday one of these was demonstrated to the Press and to overseas representatives.
The example, based on a Bedford 5-ton long-wheelbase chassis, was one of several supplied to the company by G.B.-Kalee, Ltd., 60-66, Wardour Street, London, W.1 (a member of the J Arthur Rank organization), and built in conjunction with C.B. Engineering, Ltd., Guildford, Surrey.
The operating box is based on a modified radio transmitter body. mounted to withstand rough work and tropical conditions. It carries dual G.B.-Kalee .35 mm. N-type projectors with twin amplifiers and having a separate rewind room. The chassis is equipped to low a trailer-mounted generator.
All main body members are of seasoned hardwood suitable for tropical use. Bulkheads are covered with 20-gauge steel protected specially against corrosion. Walls and roof have a 2-in, space to accommodate any appropriate type of insulant. On the operating side _there are four ports of standard projection-box size. On the opposite side there are steelframed opening lights. Entrance from • the rewind room to the projection room is by means of a fire-proofed sliding door.
Dust-proof boxes house the projectors while in transit. For lighting the operating box and rewind room when the main generator is not running, a high-capacity 12-volt battery is fitted, with a trickle charger from the main switchboard.
With the existing equipment, projec tion is limited to after-dusk performances.
Internal finish is black and white and the outside finish is battleship grey synthetic enamel.
The folding screen is by Messrs. E G. Turner, of Walthamstow. Mr. Turner himself, who was present, is at 77 one of the oldest members of the film industry.