Breakdown and Service Facilities
10th September 1948
Page 31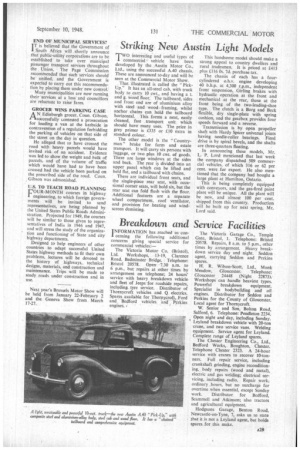 Page 32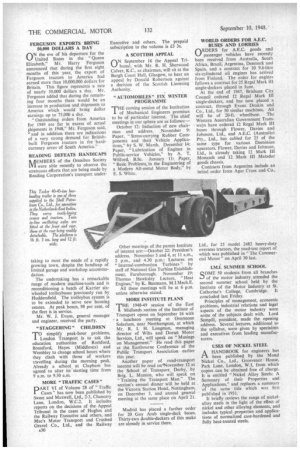 Page 31, 10th September 1948 —
Breakdown and Service Facilities
Close
INFORMATION has _reached us con" cerning the following additional concerns giving special service for commercial vehicles:— The Victoria Motor Co. (Bristol), Ltd. . Workshops, 13-19, Clarence Road. Bedminster Bridge. Telephone: Bristol 20578. Open .7.30 a.m. to 6 p.m., but repairs at other dines by arrangement on telephone; 24 hours' service with heavy breakdown vehicle. and fleet of Jeeps for roadside repairs, incinding tyre service. Distributor of Thornycroft vehicles and Q electrics. Spares available for Thornycroft, Ford and, Bedford vehicles 'and, Perkins engines..
The Victoria Garage Co., Temple Gate, Bristol, 1. Telephone: Bristol 20578. Repairs, 8 a.m. to 5 p.m., other times by arrangement. Heavy breakdown service day and night. Seddon agent, carrying Seddon and Perkins spares.
H. R. Wilson-Scott, Ltd., Monk Meadow, Gloucester. Telephone: Gloucester 24448 (Night 22873). Workshops can handle heaviest types. Powerful breakdown equipment. Specialist in bodybuilding and oil engines. Distributor for Seddon and Perkins for the County of Gloucester. Local agent for 'Thornycroft.
W. Senior and Son, Bolton Road, Salford, 6. Telephone: Pendleton 2234. Open night and day, including Sunday. ' Leyland breakdown vehicle with 20-ton crane, and two service vans. Welding equipment. Service agent for Leyland. Complete range of Leyland spares.
The Chester Engineering Co., Ltd., Bedford Works, Boughton, Chester. Telephone Chester 2323. A 24-hour service with cranes to recover 10-tonners. Full repair service, including crankshaft grinding, engine reconditioning, body repairs (wood and metal), electric and gas welding; electrical servicing, including radio. Repair work, ordinary .hours, but no surcharge for overtime when essential, except Sunday work. Distributor for Bedford, Scammell and Atkinson; also tractors and agricultural equipment.
Hodgsons Garage, Benton Road, Newcastle-on-Tyne, 7, asks us to state that it is not a Leyland agent, but holds spares for this make. FERGUSON EXPORTS BRING 50,000 DOLLARS A DAY
ON the eve of his departure for the
• United States in the "Queen Elizabeth," Mr. Harry Ferguson announced that during the first eight months of this year, the export of Ferguson tractors to America had earned more than 10,000,000 dollars for Britain. This figure represents a rate of nearly 50,000 dollars a day. Mr. Ferguson added that during the remaining four months there would be an increase in production and shipments to America which would bring dollar earnings up to 75,000 a day.
"Outstanding orders from America for 1949 are far in excess of actual §hipments in 1948," Mr. Ferguson said, "and in addition there are indications of a very strong demand for Britishbuilt Ferguson tractors in the hardcurrency areas of South America."
READING DEFEATS HANDICAPS fiEMBERS of the Omnibus Society M were able recently to observe the strenuous efforts that are being made by Reading Corporation's transport under taking to meet the needs of a rapidly growing town, despite the handicap of limited garage and workshop accommodation.
The undertaking has a remarkable range of modern machine-tools and is reconditioning a batch of Karrier sixwheeled trolleybuses previously run by Huddersfield. The trolleybus system is to be extended to serve new housing estates. At peak hours, 98 per cent, of the fleet is in service.
Mr. W. J. Evans, general manager and engineer, received the party.
"STAGGERING" CHILDREN
TO simplify peak-hour problems, London Transport is to ask the education authorities of Romford, Brentford, Hayes (Middlesex) and Wembley to change school hours where they clash with those of workers travelling during the morning peak. Already a school at Clapham has agreed to alter its -starting time from 9 a.m. to 9.30 a.m.
MORE "TRAFFIC CASES"
DART VI of Volume 28 " Traffic Cases" has now been published by Sweet and Maxwell, Ltd., 2-3, Chancery Lane, London, W,C.2. It includes reports on the decisions of the, Appeal Tribunal in the cases of Hughes and the Railway Executive and others, and Mac's Motor Transport and Crushed Gravel Co., Ltd., and the Railway
A30 Executive and others. The prepaid subscription to the volume is £3 3s.
A SCOTTISH APPEAL
nN September 16 the Appeal Tri
bunal, with Mr. R. H. Sherwood Calver, K.C., as chairman, will sit at the Burgh Court Hall, Glasgow, to hear an appeal by Donald Robertson against a decision of the Scottish Licensing Authority.
"AUTOMOBILES" FIX WINTER • PROGRAMME
THE coming session of the Institution of Mechanical Engineers promises to be of particular interest. The chief meetings in our sphere are as follows:— October 12: Induction of new chairman and address. .November 9: Paper, "Stress-carrying Rubber Components and their Vehicle Applications," by S. W. Marsh, December 14: Paper, "Lubrication of Engines in Public-service Vehicles," by A. T. Wilford, B.Sc. January 11: Paper, "Basic Problems. in the Engineering of a Modern All-metal Motor Body," by
E. S. White. .
Other meetings of the parent Institute of interest are:—October 22: President's address. November 3 and 4, at 11 a.m., 2 p.m., and 4.30 p.m.: Lectures on "Internal-combustion Turbines" by staff of National Gas Turbine Establishment, Farnborough. November 19: Thomas Hawksley Lecture, "Heat Engines," by K. Baumann, M.I.Mech.E.
All these meetings will be at 6 p.m. unless otherwise stated.
MORE INSTITUTE PLANS
THE 1948-49 session of the East Midlands section of the Institute of Transport opens on September 16 with • a luncheon .meeting at Overstone Solarium, near Northampton, at which Mr. R. I. H. Longman, managing director of Wilts and Dorset Motor Services, Ltd., will speak on "Musings on Management." He read this paper at the Eastbourne Conference of the Public Transport Association earlier this year.
Another paper of road-transport interest will be read on"November 12 at the School of Transport, Derby, by Brig. L. Manton, who will speak on "Training the Transport Man." The section's annual dinner will be held at the Victoria Station Hotel, Nottingham, on December 3, and annual general meeting at the same place on April 21.
Madrid has placed a further order for 20 Guy Arab single-deck buses. Thirty-two double-deckers of this make are already in service there.
WORLD ORDERS FOR A.E.C. BUSES AND LORRIES nRDERS for A.E.C. goods and passenger vehicles have recently been received from Australia, South Africa, Brazil, Argentina, Denmark and Spain, and a contract for 10 9.6-litre six-cylindered oil engines has arrived from Finland. The order for engines follows a contract for 25 Regal Mark Ill single-deckers placed in June.
At the end of 1947, Brisbane City Council ordered 12 Regal Mark Ill single-deckers, and has now placed a contract, through Evans Deakin and Co., Ltd., for 50 similar machines. All will be of 20-ft. wheelbase. The Western Australian Government Tramways have ordered 12 Regal Mark III buses through Flower, Davies and Johnson, Ltd., and A.E.C. (Australia) Pty., Ltd., has cabled for 25 of the same type for various Dominion operators. Flower, Davies and Johnson. Ltd., is already taking 12 Mark III Monarch and 12 Mark Matador goods chassis.
Contracts from Argentina include an initial order from Agar. Cross and Co.,
Ltd., for 25 model 2482 heavy-duty overseas tractors, the road-test report of which was published in "The Commercial Motor" on April 30 last.
SUMMER SCHOOL
SOME 50 students from all branches of the motor industry attended the second summer school held by the Institute of the Motor Industry at St. Catherine's College, Cambridge. It concluded last Friday.
Principles of management, economic problems, industrial relations and legal aspects of the motor industry were some of the subjects dealt with. Lord Sempill, president, made the opening address. Several lectures, additional to the syllabus, weregiven by specialists and executives from leading manufacturers.
USES OF NICKEL STEEL
AHANDBOOK for engineers has been publishedby the Mond Nickel Co., Ltd., Grosvenor House, Park Lane, London, W.1, from which copies can be obtained free of charge. It is entitled "Nickel Alloy Steels: A Summary of their Properties and Applications," and replaces a summary of the same title which was first published in 1931.
It briefly reviews the range of nickelalloy steels in the light of the effect of nickel and other alloying elements, and includes typical properties and applications of normalized case-hardened and fully heat-treated steels.
Tags
People
:
Mark Ill
,
Guy Arab
,
W. J. Evans
,
L. Manton
,
Mark Matador
,
R. H. Sherwood Calver
,
A. T. Wilford
,
I. H. Longman
,
Harry Ferguson
,
Sempill
,
Salford
,
Donald Robertson