* Personal Pars * MR. H. CONS - I - m.4r has been appointed
10th September 1948
Page 30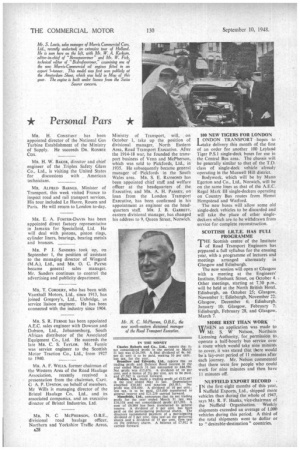 Page 30, 10th September 1948 —
* Personal Pars * MR. H. CONS - I - m.4r has been appointed
Close
director of the National Gas Turbine Establishment of the Ministry of Supply. He succeeds DR. ROXREE COX.
MR. H. W. BAKER, director and chief engineer of the Triplex Safety Glass Co., Ltd., is visiting the United States for discussions with American technicians.
MR. ALFRED BARNES. Minister of Transport, this week visited France to inspect road and rail transport services. His tour included Le Havre, Rouen and Paris. He will return to London to-day.
MR. E. A. FOSTER-DAVIS has been appointed direct factory representative in Jamaica for Specialloid, Ltd. He will deal with pistons, piston rings, cylinder liners, bearings, bearing metals and bronzes.
MR. P J. SANDERS IOOk up, on September 1, the position of assistant to the managing director of Wingard (M.A.), Ltd., and MR. 0. C. PAYNE became general sales manager. Mr. Sanders continues to control the advertising and publicity department.
MR. T. CORDERY, who has been with Vauxhall Motors, Ltd., since 1913, has joined Gregory's, Ltd., Uxbridge, us service liaison engineer. He has been connected with the industry since 1904.
MR. S. R. FERNIE has been appointed A.E.C. sales engineer with Dowson.and Dobson, Ltd., Johannesburg, South African distributor of the Associated Equipment Co., Ltd. He succeeds the late MR. C. S. TAYLOR. Mr. Fernie was service engineer to the Scottish Motor Traction Co., Ltd., from 1927 to 1940.
MR. A. F. WILLS, former chairman of the Western Area of the Road Haulage Association, recently received a presentation from the chairman, CAPT. Co A. P. UPSTON. on behalf of members. Mr Wills is managing director of the Bristol Haulage Co. Ltd., and its associated companies, and an executive director of Bristol Industries, Ltd.
MR. N. C MCPHERSON, 0.B.E., divisional road haulage officer, Northern and Yorkshire Traffic Areas, 428
Ministry of Transport, will, on October 1, take up the position of divisional manager, North Eastern Area, Road Transport Executive. After the 1914-18 war, he founded the transport business of Venn and McPherson. which was sold to Pickfords, Ltd., in 1935. He subsequently became general manager of Pickfords in the South Wales area. MR. S. E. RAYMOND has been appointed chief staff and welfare officer at the headquarters of the Executive, and MR. A. H. Plisse!, on loan from the London Transport Executive, has been confirmed in his appointment as engineer on the headquarters staff. MR. J. B. GARRETT, eastern divisional manager, has changed his address to 9, Queen Street, Norwich.
Tags
People
:
A. H. Plisse
,
S. E. RAYMOND
,
H. W. BAKER
,
C. S. TAYLOR
,
T. CORDERY
,
A. F. WILLS
,
N. C MCPHERSON
,
S. R. FERNIE
,
J. B. GARRETT
,
ROXREE COX
,
ALFRED BARNES