City's Terminus Scheme Thrown Out Iy/ITHOUT calling for evidence on
10th September 1948
Page 29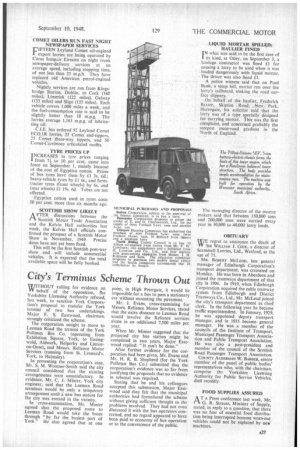 Page 29, 10th September 1948 —
City's Terminus Scheme Thrown Out Iy/ITHOUT calling for evidence on
Close
IT behalf of the opposition, the Yorkshire Licensing Authority refused, last week, to sanction York Corporation's proposal to transfer the York termini of two bus undertakings. Major F. S. Eastwood, chairman. strongly criticized the scheme.
The corporation sought to move to Leeman Road the termini of the York Pullman Bus Co. (operating from Exhibition Square, York, to Easingwold, Aldwark, Helperby and Lintonon-Ouse), and Messrs. Reliance Motor Services (running from St. Leonard's, York, to Helmsley).
In presenting the corporation's case, Mr. S. M. Wontner-Smith said the city council considered that the existing arrangements were unsatisfactory. In evidence, Mr. C. J. Minter, York city engineer, said that the Leeman Road. terminus would be only a temporary arrangement until a new bus station for he city was erected in the vicinity.
In cross-examination, Mr. Minter agreed that the proposed route to Leeman Road would take the buses through "by far the busiest part of York." He also agreed that at one point, in High Petergate, it would be impossible for a bus to pass a stationary car without mounting the pavement.
Mr. J. Evans, cross-examining for Messrs. Reliance Motor Services, stated that the extra distance to Leeman Road would involve the Reliance services alone in an additional 7,500 miles per year.
When Mr. Minter suggested that the projected city biis station might be completed in two years, Major Eastwood replied: "It can't be done."
After further evidence for the corporation had been given, Mr. Evans and Mr. H. R. B. Shepherd (for the York Pullman Bus Co.) submitted that the corporation's evidence was so far from justifying the proposals that no evidence in rebuttal was required.
Stating that he and his colleagues accepted this subinission, Major Eastwood said they felt that the municipal authorities had formulated the scheme without giving sufficient thought to the problems involved. They had not even discussed it with the bus operators concerned, and no regard appeared to have been paid to economy of bus operation or to the convenience of the public.