News of the Week
10th September 1948
Page 28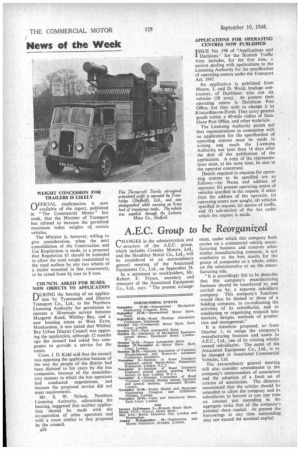 Page 29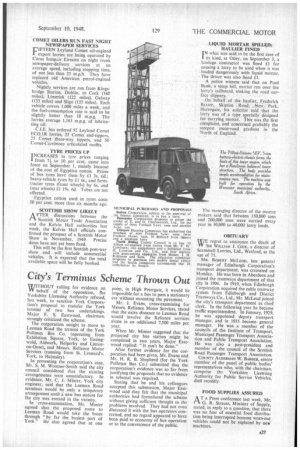 Page 30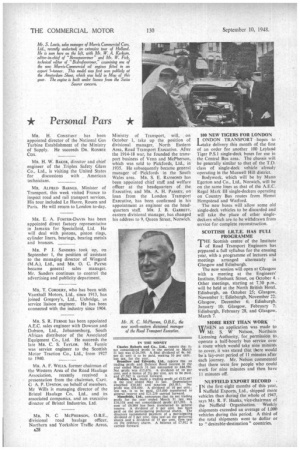 Page 31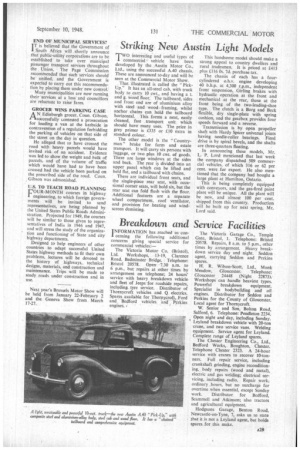 Page 28, 10th September 1948 —
News of the Week
Close
WEIGHT CONCESSION FOR TRAILERS IS LIKELY
nFFICIAL confirmation is now available of the report, published in "The Commercial Motor" last week, that the Minister of Transport has refused to increase the permitted maximum laden weights of certain vehicles.
The Minister is, however, willing to give consideration, when the next consolidation of the Construction and Use Regulations is made, to a proposal that Regulation 65 should be amended to allow the total weight transmitted to the road surface by any two wheels of a trailer mounted in line transversely, to be raised from 61 tons to 8 tons.
COUNCIL ASKED FOR BUSES: NOW OBJECTS TO APPLICATION
DURING the hearing of an application by Tynemouth and District Transport Co., Ltd., to the Northern Licensing Authority for permission to operate a 30-minute service between Margaret Road, Whitley Bay, and a new housing estate at West Farm, Monkseaton, it was stated that Whitley Bay Urban District Council was opposing the application, although 12 months ago the council had asked bus companies to provide a service for the estate.
Coun. J. D. Kidd said that the council was opposing the application because of the way the people of the district had been dictated to foryears by the bus companies, because of the unsatisfactory manner in which the bus operators had conducted negotiations, and because the proposed service did not meet requirements.
Mr. S. W. Nelson, Northern Licensing Authority, adjourning the hearing, suggested that another application should be made with the co-operation of other operators and with a route similar to that proposed by the council.
A26 APPLICATIONS FOR OPERATING CENTRES NOW PUBLISHED I SSUE No. 198 of "Applications and Decisions " for the Scottish Traffic Area includes, for the first time, a section dealing with applications to the Licensing Authority for the specification of operating centres under the Transport Act, 1947.
An application is published from Messrs. J. and D. Ward, haulage contractors, of Dunblane, who run six vehicles (18 tons). At present their operating centre is Dunblane Post Office, but they wish to change it to Kincardine-on-Forth. They carry general goods within a 40-mile radius of Dunblane Post Office, and other materials.
The Licensing Authority points out that representations in connection with an application for the specification of operating centres must be made in writing and reach the Licensing Authority not later than 14 days after the date of the publication of the application. A copy of the representations must, at the same time, be sent to the operator concerned.
Details required in requests for operating centres to be specified are as follows:—(a) Name and address of operator, (b) present operating centre of vehicles specified in the request, if other than the address of the operator, (c) operating centre now sought, (d1 vehicles specified in request, (e) nature of traffic. and (f) sub-section of the Act under which the request is made. COMET OILERS RUN FAST NIGHT NEWSPAPER SERVICES
FIFTEEN Leyland Comet oil-engined I export lorries are being operated by Coras Iompair Eireann on night trunk newspaper-delivery services at an average speed, including stopping time, of not less than 25 m.p.h. They have replaced old American petrol-engined vehicles.
Nightly services are run from Kingsbridge Station, Dublin, to Cork (160 miles), Limerick (122 miles), Galway (133 miles) and Sligo (135 miles). Each vehicle covers 1,000 miles a week, and the fuel-consumption rate is said to be slightly better than 18 m.p.g. The lorries average 1,163 m.p.g. of lubricating oil.
C.I.E. has ordered 92 Leyland Comet ECO.1R lorries, 25 Cornet end-tippers, 25 Comet three-way tippers, and 50 Comet-Carrimore articulated outfits.
TYRE PRICES UP
I NCREASES in tyre prices ranging from 71 to 10 per cent. came into force on September I. mainly because of the cost of Egyptian cotton. Prices of bus tyres have risen by £1 3s. 6d-; heavy-vehicle tyres by El 6s., and farmtractor tyres (front wheels) by 6s. arid (rear wheels) El 19s. 6d. Tubes are not affected.
Egyptian cotton used in tyres costs 50 per cent, more than six months ago.
SCOTTISH SHOW LIKELY
AFTER discussions between the Scottish Motor Trade Association and the Kelvin Hall authorities last week, the Kelvin Hall officials confirmed the prospect of a Scottish Motor Show in November, 1949. Precise dates have not yet been fixed.
This will be the first Scottish post-war show and will include commerCial vehicles. It is expected that the total available space will be fully booked. . LIQUID MORTAR SPILLED: HAULIER FINED
I N what was said to be the first case of its kind, at Otley, on September 3, a haulage contractor was fined £1 for causing a lorry to be used when it was loaded dangerously with liquid mortar. The driver was also fined El.
. A police witness said. that on Pool Bank; a steep hill, mortar ran over the lorry's tailboard, making the road surface slippery.
On behalf of the haulier, Frederick Baxter, Skipton Road, _ New Park, Harrogate, his solicitor said that the lorry was of a type specially designed for carrying mortar. Thiswas the first complaint, and concerned probably the steepest main-road gradient in the North of England.
The managing director of the mortar makers said that between 150,000 tons and 200,000 tons were carried every year in 30,000 to 40,000 lorry loads.
OBITUARY VUE regret to announce the death of VI' SIR WILLIAM J. GICK, a director of Scammell Lorries, Ltd., Watford, at the age of 71.
MR. Room McLEon, late general manager of Edinbungh Corporation's transport department, was cremated on Monday. He was born in Aberdeen and joined the tramways department of that city in 1904. In 1919, when Edinburgh Corporation acquired the cable tramway system from Edinburgh and District Tramways Co., Ltd., Mr. McLeod joined the city's transport department as chief clerk. In the following year he became traffic superintendent. In January, 1929, he was appointed deputy transport manager, and in 1935 became general manager. He was a member of the councils of the Institute of Transport, Municipal Passenger Transport Association and Public Transport Association. He was also a past-president and member of the council of the Scottish Road Passenger Transport Association.
COUNTY ALDERMAN W. BARBER, senior member of the panel of public bodies' representatives who, with the chairman, comprise th.T. Yorkshire Licensing Authority for Public Service Vehicles, died recently.
FOOD SUPPLIES ASSURED
A T a Press conference last week, Mr. G. R. Strauss, Minister of Supply, stated, in reply to a question, that there was no fear of essential food distribution being interrupted because worn-out vehicles could not be replaced by new machines.
100 NEW TIGERS FOR LONDON ONDON TRANSPORT hopes to 1—Atake delivery this month of the first of an order for another 100 Leyland Tiger P.5.1 single-deck buses for use in the Central Bus area. The chassis will be generally similar to that of the T.D. class of single-deck vehicle already operating in the Muswell Hill district.
Bodywork, which will be by Mann Egerton and Co., Ltd., Norwich, will be on the same lines as that of the A.E.C. Regal Mark III single-deckers operating on Country Bus routes from Hemel Hempstead and Watford.
The new buses will allow some old single-deck vehicles to be discarded and will take the place of other singledeckers which are to be withdrawn from service for complete reconstruction.
SCOTTISH HAS FULL PROGRAMME
THE Scottish centre of the Institute of Road Transport Engineers has prppared a full syllabus for the ensuing year. with a programme of lectures and meetings arranged alternately in Glasgow and Edinburgh.
The new session will open at Glasgow with a meeting at the Engineers' Institute, Elmbank Street, on October 4. Other meetings, starting -at 7.30 p.m.. will be held at the North British Hotel, Edinburgh, on October 25; Glasgow, November 1; Edinburgh, November 22; Glasgow, December 6; Edinburgh, January 10; Glasgow, February 7; Edinburgh, February 28, and Glasgow, March 7.
MORE REST THAN WORK WHEN an application was made to VV Mr. S. W Nelson, Northern Licensing Authority, for permission to operate a half-hourly bus service over a route which would take nine minutes to cover, it was stated that there would be-a lay-over period of 11 minutes after each journey. Mr. Nelson commented that there were few people who could work for nine minutes and then have 11 minutes off.
NUFFIELD EXPORT RECORD IN the first eight months of this year. Nuffield Exports, Ltd., shipped more vehicles than during the whole of 1947, says Mr. R. F. Hanks, vice-chairman of the Nuffield Organisation. Weekly shipments exceeded an average of 1,000 vehicles during this period. A third of the total shipments went to dollar or to "desirable-destination" countries.
END OF MUNICIPAL SERVICES? I T is believed that the Government of South Africa will shortly announce that public-utility corporations are to be established to take over municipal passenger transport services throughout the Union. The Page Commission recommended that such services should be unified, and the Government is expected to carry out this recommendation by placing them under new control. Many municipalities are now running their services at a loss and councillors are reluctant to raise fares.
GROCER WINS PARKING CASE
AN. Edinburgh grocer. Conn. Gibson. successfully contested a prosecution for loading a van at the kerbside in contravention of a regulation forbidding the parking of vehicles on that side of the street on the day in question.
He alleged that to have crossed the road with heavy parcels would have invited risk of an accident. Evidence was led to show the weight and bulk of parcels, and of the volume of traffic which would have had to have been crossed had the vehicle been parked on the prescribed side of the road. Coon. Gibson was admonished.
U.S. TO TEACH ROAD PLANNING
FOUR-MONTH courses in highway engineering, to which foreign governments will be invited to send representatives, are being planned by the United States Public Roads Administration. Projected for 1949, the courses will be similar to those given to representatives of India in 1946 and 1947, and will stress the study of the organization and functioning of State and city highway departments.
Designed to help engineers of other countries to adapt successful United States highway methods to fit their own problems, lectures will be devoted to the history of highways,, technical designs, materials, and construction and maintenance. Trips will be made to study roads under construction and in use.
Next year's Brussels Motor Show will be held from January 22-February . 2 and the Geneva Show from March 17-27.
Tags
Organisations
:
Scottish Motor Trade Association
,
Scottish Road Passenger Transport Association
,
Whitley Bay Urban District Council
,
Licensing Authority
,
Northern Licensing Authority
,
Institute of Transport
,
Yorkshire Licensing Authority for Public Service Vehicles
,
Public Transport Association
,
Engineers' Institute
,
United States Public Roads Administration
,
Government of South Africa
,
Institute of Road Transport Engineers
,
Page Commission
,
Municipal Passenger Transport Association
,
Nuffield Organisation
,
Post Office