One
10th September 1948
Page 27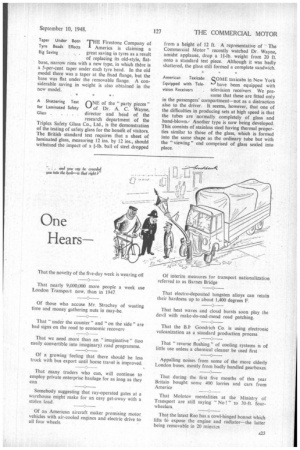 Page 27, 10th September 1948 —
One
Close
Hears—
That the novelty of the five-day week is wearing oil That nearly 9,000,000 more people a week use London Transpoct now, than in 1947.
Of those who accuse Mr. Strachey of wasting time and money gathering nuts in may-be
That "under the counter" and "on the side" are bad signs on the road to economic recovery
That we need more than an " imaginative " (too easily convertible into imaginary) road programme.
Of a growing feeling that there should be less truck with bus export until home travel is improved.
That many traders who can, will continue to employ private enterprise haulage for as long as they can Somebody suggesting that ray-operated gates at a warehouse might make for an easy get-away with a stolen load.
Of an American aircraft maker promising motor vehicles with air-cooled engines and electric drive to all four wheels. Of interim measures for transport nationalization referred to as Barnes Bridge That electro-deposited tungsten alloys can retain their hardness up to about 1,400 degrees F.
That heat waves and cloud bursts soon play the devil with make-do-and-mend road patching.
That the 13.1. Goodrich Co. is using electronic vulcanization as a standard production process That "reverse flushing" of cooling systems is of little use unless a chemical cleaner be used first Appalling noises from some of the more elderly London buses, mostly from badly handled gearboxes
That during the first five months of this year Britain bought some 400 lorries and cars from America
That Molotov mentalities at the Ministry of
Transport are still saying No ! " to 30-ft. fourwheelers.
That the latest Reo has a cowl-hinged bonnet which lifts to expose the engine and radiator—the latter being removable in 20 minutes