Roads and Vehicles are Vital Assets
10th September 1948
Page 26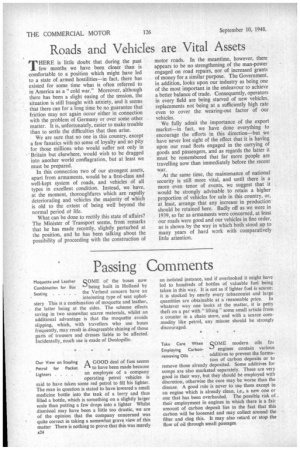 Page 26, 10th September 1948 —
Roads and Vehicles are Vital Assets
Close
HERE is little doubt that during the past few months we have been closer than is comfortable to a position which might have led to a state of armed hostilities—in fact, there has existed for some time what is often referred to in America as a "cold war." Moreover, although there has been a slight easing of the tension, the situation is still fraught with anxiety, and it seems that there can for a long time be no guarantee that friction may not again occur either in connection with the problem of Germany or over some other matter. It is, unfortunately, easier to make trouble than to settle the difficulties that then arise.
We are sure that no one in this country. except a few fanatics with no sense of loyalty and no pity for those millions who would suffer not only in Britain but elsewhere, would wish to be dragged into another world conflagration, but at least we must be prepared.
In this connection two of our strongest assets, apart from armaments, would be a first-class and well-kept system of roads, and vehicles of all types in excellent condition. Instead, we have, at the moment, thoroughfares which are rapidly deteriorating and vehicles the majority of which is old to the extent of being well beyond the normal period of life.
What can be done to rectify this state of affairs? The Minister of Transport seems, from remarks that he has made recently, slightly perturbed at the position, and he has been talking about the possibility of proceeding with the construction of motor roads. In the meantime, however, there appears to be no strengthening of the man-power engaged on road repairs, nor of increased grants of money for a similar purpose. The Government, in addition, looks upon our industry as being one of the most important in the endeavour to achieve a better balance of trade. Consequently, operators in every field are being starved of new vehicles, replacements not being at a sufficiently high rate even to cover the wearing-out factor of our vehicles.
We fully admit the importance of the export market—in fact, we have done everything to encourage the efforts in this direction—but we have never lost sight of the effect that it is having upon our road fleets engaged in the carrying of goods and passengers, and as regards the latter it must be remembered that far more people are travelling now than immediately before the recent war.
At the same time, the maintenance of national security is still more vital, and until there is a more even tenor of events, we suggest that it would be strongly advisable to retain a higher proportion of vehicles for sale in this country, or, at least, arrange that any increase in production should be retained here. Badly off as we were in 1939, so far as armaments were concerned, at least our roads were good and our vehicles in fine order, as is shown by the way in which both stood up to many years of hard work with comparatively little attention.