Progress of Nationalization
10th September 1948
Page 25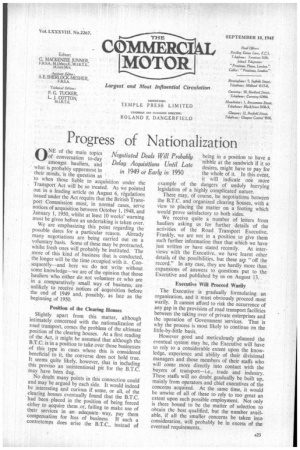 Page 25, 10th September 1948 —
Progress of Nationalization
Close
ONE of the main topics Negotiated Deal of conversation to-day amongst hauliers, and Delay Acouisiti what is probably uppermost in in 1949 o E their minds, is the question as to when those liable to acquisition under the Transport Act will be so treated. As we pointed out in a leading article on August 6, regulations issued under the Act require that the British Transport Commission must, in normal cases, serve notices of acquisition between October 1, 1948, and January 1, 1950, whilst at least 10 weeks' warning must be given before an undertaking is taken over. We are emphasizing this point regarding the possible dates for a particular reason. Already many negotiations are being carried out on a voluntary basis. Some of these may be protracted, whilst fresh ones will probably be instituted. The more of this kind of business that is ,conducted, the longer will be the time occupied with it. Consequently—and here we do not write without some knowledge—we are of the opinion that those hauliers who either do not volunteer Or• who are in a comparatively small way of business, are unlikely to receive notices of acquisition before the end of 1949 and possibly, as late as the beginning of 1950.
Position of the Clearing Houses Slightly apart from this matter, although intimately concerned with the nationalization of road transport, comes the problem of the ultimate position of the clearing houses. At a first reading of the Act, it might be assumed that although the B.T.C. is in a position to take over those businesses of this type in cases where this is considered beneficial to it, the converse does not hold true. It seems quite likely, however, that in including this proviso an unintentional pit for the B.T.C. may have been dug.
No doubt many points in this connection could and may be argued by each side. It would indeed be interesting and curious if some, or all, of the clearing houses eventually found that the B.T.C. had been placed in the position of being forced either to acquire them or, failing to make use of their services in an adequate way, pay them compensation for toss of business If such a contretemps does arise the B.T.C., instead of sWill Probably being in a position to have a ons Until Late desires, might have to pay for any in 1950 the whole of it. In this event, it will indicate one more example of the dangers of unduly hurrying legislation of a highly complicated nature.
There may, of course, be negotiations between the B.T.C. and organized clearing houses, with a view to placing the matter on a footing which would prove satisfactory to both sides.
We receive quite a number of letters from hauliers asking us for further details of the activities of the Road Transport Executive. Frankly, we are not in a position to give them such further information than that which we have just written or have stated recently. At interviews' with the Executive, we have learnt other details of the possibilities, but these acpe "off the record." In any case, they are hardly more than expansions of answers to questions put to the Executive and published by us on August 13..
Executive Will Proceed Warily The Executive is gradually formulating an organization, and it must obviously proceed most warily. It cannot afford to risk the occurrence of any gap in the provision of road transport facilities between the taking over of private enterprises and the operation of Government services. That is why the process is most likely to continue on the little-by-little basis.
However good and meticulously planned the eventual system may be, the Executive will have to rely to a considerable extent upon the knowledge, experience and ability of their divisional managers and those members of their staffs who will come more directly into contact with the buyers of transport—i.e., trade and industry. These staffs will no doubt gradually be built up, mainly from operators and chief executives of the concerns acquired. At the same time, it would be unwise of all of these to rely to too great an extent upon such possible employment. Not only is there bound to be the matter of selection to obtain the best qualified, but the number available, if all the smaller concerns be taken into consideration, will probably be in excess of the eventual requirements.