Personal Pars
10th September 1943
Page 21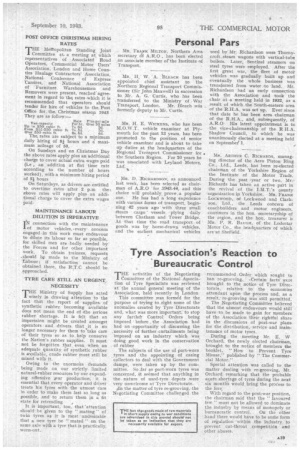 Page 21, 10th September 1943 —
Personal Pars
Close
MR. FROK MILTON, Northern Area secretary d'f A.R.0 , has been elected an associate member or the Institute of Transport.
*MR. II,' W. A. .131.E.A.CH has been appointed chief assistant to The 'Northern Regional Transport Commissioner (Sir John Maxwell) in succession to Mr. A. G.Curtis, who has been transferred to the Ministry of, War Transport, London. Mr. Bleach was formerly deputy to Mr. Curtis.
MR. H. E. WIC/LENS, who has been M.O.W.T. vehicle examiner at Plymouth for the-past 13 years, has been promoted to the position of senior vehicle examiner and is about to take up duties at the headquarters of. the Regional Transport Commissioner for the Southern Region. For 10 years he was associated with Leyland Motors, Ltd'.
" MR. D. RICHARDSON; as announced last week, has been selected as chairman of A.R.0 for 1942-44, and this choice will probably, prove a popular one. He has had a long experience with various forms of transport, beginning 42 years ago with three small -Steam cargo ' vessels. 'plying daily between Chatham and Tower Bridge. At that time the road transport of goods, was by horse-drawn Vehicles, and the earliest mechanical vehicles
used by Mr. Richardson were Thorny
croft steam wagons with vertical-tube boilers. Later, Sentinel steamers on steel tyres were employed. After the first great war, the fleet of motor vehicles was gradually built up and eventually the whole business tvas . transferred from water -to land. Mr. Richardson had an early connection with the Association and took the chair at a meeting held in 1932, as a result of which. the South-eastern area of the R.H.A. was set up. Ever since that date he has been area chairman of the R.H.A., and, subsequently, of A.R.0 His latest appointment is to the vice-chairmanship of the R H.A. Shadow Council, to which he was unanimously elected at a meeting held
on September' 1. .
• Ma. ARTHUR C. Ricnnaos, managing director of the Aero Piston Ring Co., Ltd., Leeds, has been re-elected chairman of the Yorkshire Region of the Institute of the Motor Trade. During the past year or two, Mr., Richards has taken an active part in the revival of the I.M.T;'s county organization in Yorkshire. MR. FRANK LOCKWOOD, of Lockwood and Clark, son, Ltd., the Leeds concern of coachbuilders and motor engineers, continues in the hon. secretaryship of the region, and the hon. treasurer is MR. P. R. BAUGH, of the Lodestar Motor Co., the headquarters of which are-at Sheffield.