Glasgow' s Second Meet.
10th September 1908
Page 13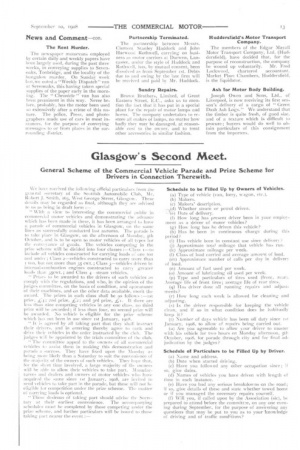 Page 13, 10th September 1908 —
Glasgow' s Second Meet.
Close
General Scheme of the Commercial Vehicle Parade and Prize Scheme for Drivers in Connection Therewith.
We heye received the !Viewing official particulars from the gent 'al secretary of the Scottish Automobile Club, Mr.
Robert J. Smith, tO3, West George Street, Glasgow. These details intly be regarded Os final, although they are advised io its as being in draft form With it view to interesting the commercial public in conmerteal motor vehicles and demonstrating the advance
which has 1)1.'411 made in these, it has been arranged to have
a panicle of comMercial vehicles in Glasgow, on ihe same lines as successfully conducted last autumn. parade is to take place in Glasgow, on the afternoon of :11kindity, 5th October, end is to be open to motor vehicles of all types for the eonveyance of goods. The vehicles competing in the prize scheme will be divided into four classes :—Class i—to
include ell vehicles constructed for carrying loads 0a. one ton and under ; Class 2—vehicles constructed to carry more than
I ton, but not more than 35 &net.; Class 3—vehicles driven by internal-combustion engines constructed to carry greater loads than 35cwt.; and Class 4 steam vehicles.
" Priees to be awarded to the drivers of such vehicles as comply with the regulations, and who, in the opinion of the judges committee, on the basis of condition, and appearance of their machines, and on the other data available, merit the awerd. The prizes in each class shall be as followe:—ist
prize, ; 2nd prize, 4J2 ; and 3rd prize, .471. 11 there are
less than nine competing vehicles in any one class, no third prize will be awarded; if less than four, no second prize will be awarded. No vehicle is eligible for the prize scheme which hits riot been in use since 1st January, t9o8. " It is agreed by all taking part that they shall instruct their drivers, and in entering thereby agree to rank and drive their vehicles in the order instructed by the chile The judges will he appointed by the trials committee of the club.
" The committee appeal to the owners of all commercial vehicles to assist them in making this demonstration and parade a euccess. They }lily e Ii Ned upon the NIontley being mon. likely than a Saturday to suit the convenience of tht• majority of the owners of such vehicles. They hope that, for the shert lime involved, a large majority of the owners will he able to allow their vehicles to take part. Manufacturers and dealers and GWrIers of motor vehicles who have acquired the sanw since 1st January, teo8, are invited to meld vehicles to take part ii the parade, but these will not la. eligible for competition under the prize scheme. '1111. matter of carrying loads is optional.
'• Those desirous of taking part should advise the Secre tary it their earliest convenience. The accompanying schedules must be completed by those competing tinder the prize scheme, and further particulars will be issued to those taking pert nearer the event :—
Schedule to be Filled Up by Owners of Vehicles.
(a) Type of vehicle (van, lorry, wagon, tee.). NI Makers.
(c) Makers' description.
etc!) Whether steam or petrol driven.
-(e) Date of delivery. • (1) How long has present driver been in your employment as a driver of motor vehicles?
(g) Hotv long has he driven this vehicle? (h) Has he been in continuous charge during this period? tit Has vehicle been in constant use since delivery:.
(j) Approximate total mileage that vehicle has run.
(k) Approximate mileage per week. (1) Class of load carried and average amount of load. (m) Approximate number of calls per day in delivery of load.
(n) Amount of fuel used per week. (o) Amount of lubricating oil used per week. (p) Type and particulars of tires used (front, rear). Average life of front tires; average life of rear tires. (q) Has driver done all running repairs and adjustments?
(r) flow long each week is allowed for cleaning and adjusting. (s) Is the driver responsible for keeping the vehicle clean, and if so in what condition does he habitually keep it? (1) Number of days vehicle has been off duty since 1st January, too, to allow of repairs being carried out.
(u) Are you agreeable to allow your driver to muster with his vehicle for two hours on Monday afternoon, 5th October, tete% for parade through city and for. final adjudication by the judges?
Schedule of Particulars to be Filled Up by Driver.
(a) Name and address.
(b) Date when started driving.
(c) Have you followed any other occupation since; if so, give dates.
(d) Names of vehicles you have driven with length of time in each instance.
(e) Have you had any serious breakdowns on the road; if so, give details of these and state whether towed home or if you managed the necessary repairs yourself.
(f) Will you, if called upon by the Association (sic), be prepared to attend before the committee, on any one evening during September, for the purpose of answering any questions that may be put to you as to yourknowledge of driving and of traffic conditions?