NOW WE ARE MARRIED
10th October 1996
Page 7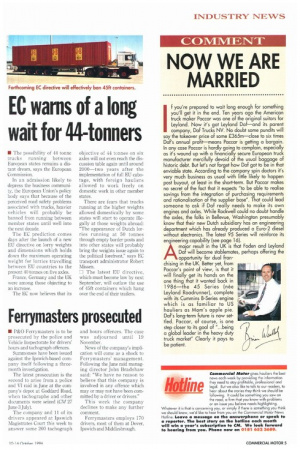 Page 7, 10th October 1996 —
NOW WE ARE MARRIED
Close
If you're prepared to wait long enough for something you'll get it in the end. Ten years ago the American truck maker Paccar was one of the original suitors for Leyland. Now it's got Leyland Daf—and its parent company, Dar Trucks NV. No doubt some pundits will say the takeover price of some £365m—close to six times Daf's annual profit—means Paccar is getting a bargain. In any case Paccar is hardly going to complain, especially as it's wound up with a financially secure European truck manufacturer mercifully devoid of the usual baggage of historic debt. But let's not forget how Daf got to be in that enviable state. According to the company spin doctors it's very much business as usual with little likely to happen post buyout, at least in the short-term. But Paccar makes no secret of the fact that it expects to be able to realise savings from the integration of purchasing requirements and rationalisation of the supplier base". That could lead someone to ask if Daf really needs to make its own engines and axles. While Rockwell could no doubt handle the axles, the folks in Bellevue, Washington presumably know that their new Dutch subsidiary has an engineering department which has already produced a Euro-2 diesel without electronics, The latest 95 Series will reinforce its engineering capability (see page 16).
major result in the UK is that Foden and Leyland Daf will become stablernates, perhaps offering the opportunity for dual fran chising in the UK. Better yet, from Paccar's point of view, is that it will finally get its hands on the
one thing that it wanted back in 1986—the 45 Series (née
Leyland Roadrunner], complete with its Cummins B-Series engine which is as familiar to US hauliers as Mom's apple pie.
Daf's long-term future is now settled. Paccar, of course, is one step closer to its goal of "...being a global leader in the heavy duty truck market' Clearly it pays to be patient.