EC warns of a long wait for 44-tonners
10th October 1996
Page 7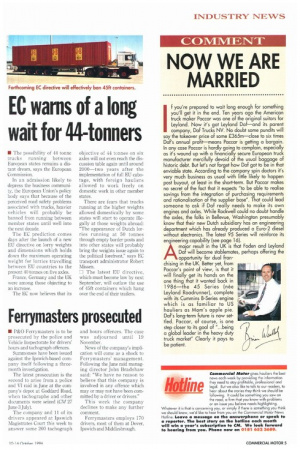 Page 7, 10th October 1996 —
EC warns of a long wait for 44-tonners
Close
II The possibility of 44 tonne trucks running between European states remains a distant dream, says the European Commission.
In an admission likely to depress the business community, the European Union's policy body says that because of the perceived road safety problems associated with trucks, heavier vehicles will probably be banned from running between member states until well into the next decade.
The EC prediction comes days after the launch of a new EU directive on lorry weights and dimensions which holds down the maximum operating weight for lorries travelling between EU countries to the present 40 tonnes on five axles.
France. Germany and the UK were among those objecting to an increase.
The EC now believes that its objective of 44 tonnes on six axles will not even reach the discussion table again until around 2000—two years after the implementation of full EU cabotage, with foreign hauliers allowed to work freely on domestic work in other member states.
There are fears that trucks running at the higher weights allowed domestically by some states will start to operate illegally at those weights abroad: "The appearance of Dutch lorries running at 50 tonnes through empty border posts and into other states will probably bring the weights issue again to the political forefront," says EC transport administrator Robert Missen.
TI The latest EU directive, which must become law by next September, will outlaw the use of 45ft containers which hang over the end of their trailers.