'There is always the trade off between volume and weight'
10th October 1996
Page 63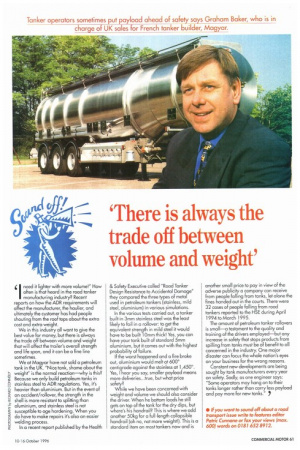 Page 63, 10th October 1996 —
'There is always the trade off between volume and weight'
Close
( need it lighter with more volume!" How I often is that heard in the road tanker manufacturing industry? Recent reports on how the ADR requirements will affect the manufacturer, the haulier, and ultimately the customer has had people shouting from the roof tops about the extra cost and extra weight. We in this industry all want to give the best value for money, but there is always the trade off between volume and weight that will affect the trailer's overall strength and life span, and it can be a fine line sometimes.
We at Magyar have not sold a petroleum tank in the UK. "Nice tank, shame about the weight" is the normal reaction—why is this? Because we only build petroleum tanks in stainless steel to ADR regulations. Yes, it's heavier than aluminium. But in the event of an accident/rollover, the strength in the shell is more resistant to splitting than aluminium, and stainless steel is not susceptible to age hardening. When you do have to make repairs it's also an easier welding process.
In a recent report published by the Health & Safety Executive called "Road Tanker Design Resistance to Accidental Damage" they compared the three types of metal used in petroleum tankers (stainless, mild steel, aluminium) in various simulations.
In the various tests carried out, a tanker built in 3mm stainless steel was the least likely to fail in a rollover: to get the equivalent strength in mild steel it would have to be built 1 Omm thick! Yes, you can have your tank built of standard 5mm aluminium, but it comes out with the highest probability of failure.
If the worst happened and a fire broke out, aluminium would melt at 6000 centigrade against the stainless at 1,450°. Yes, I hear you say, smaller payload means more deliveries.. .true, but what price safety?
While we have been concerned with weight and volume we should also consider the driver. When he bottom loads he still gets on top of the tank for the dry dips, but where's his handrail? This is where we add another 50kg for a full-length collapsible handrail (oh no, not more weight!). This is a standard item on most tankers now and is another small price to pay in view of the adverse publicity a company can receive from people falling from tanks, let alone the fines handed out in the courts. There were 32 cases of people falling from road tankers reported to the HSE during April 1994 to March 1995.
The amount of petroleum tanker rollovers is small—a testament to the quality and training of the drivers employed—but any increase in safety that stops products from spilling from tanks must be of benefit to all concerned in the industry. One major disaster can focus the whole nation's eyes on your business for the wrong reasons. Constant new developments are being sought by tank manufacturers every year on safety. Sadly, as one engineer says: "Some operators may hang on to their tanks longer rather than carry less payload and pay more for new tanks."