Langdon drivers hit over false records
10th October 1996
Page 6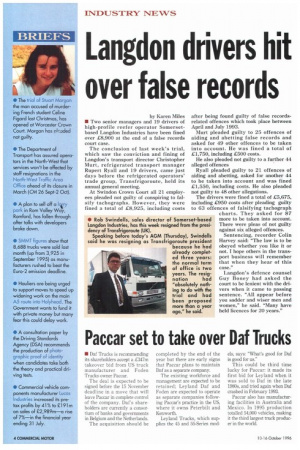 Page 6, 10th October 1996 —
Langdon drivers hit over false records
Close
by Karen Miles • Two senior managers and 19 drivers of high-profile reefer operator Somersetbased Langdon Industries have been fined over £8,900 at the end of a false records court case.
The conclusion of last week's trial, which saw the conviction and fining of Langdon's transport director Christopher Murt, refrigerated transport manager Rupert Ryall and 19 drivers, came just days before the refrigerated operators' trade group, Transfrigoroute, held its annual general meeting.
At Swindon Crown Court all 21 employees pleaded not guilty of conspiring to falsify tachographs. However, they were fined a total of £8,925, including costs after being found guilty of false recordsrelated offences which took place between April and July 1993.
Murt pleaded guilty to 25 offences of aiding and abetting false records and asked for 49 other offences to be taken into account. He was fined a total of £1,750, including £500 costs.
He also pleaded not guilty to a further 44 alleged offences Ryall pleaded guilty to 21 offences of aiding and abetting, asked for another 44 to be taken into account and was fined £1,550, including costs. He also pleaded not guilty to 48 other allegations.
The drivers were fined a total of £5,675, including £950 costs after pleading guilty to 63 offences of falsifying tachograph charts. They asked for 87 more to be taken into account. There were pleas of not guilty against six alleged offences.
Sentencing, recorder Colin Harvey said: "The law is to be obeyed whether you like it or not. I hope others in the transport business will remember that when they hear of this case."
Langdon's defence counsel Guy Boney had asked the court to be lenient with the drivers when it came to passing sentence. "All appear before you sadder and wiser men and women," he said. "Many have held licences for 20 years."