Innovation
10th October 1996
Page 56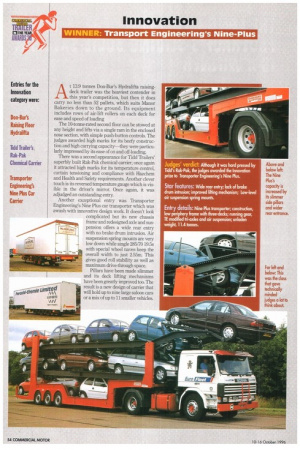 Page 56, 10th October 1996 —
Innovation
Close
At 13.9 tonnes Don-Bur's Hydralifta raisingdeck trailer was the heaviest contender in this year's competition, but then it does carry no less than 52 pallets, which suits Manor Bakeries down to the ground. Its equipment includes rows of airlift rollers on each deck for ease and speed of loading
The 10-tonne-rated second floor can be stowed at any height and lifts via a single ram in the enclosed nose section, with simple push-button controls. The judges awarded high marks for its beefy construction and high carrying capacity—they were particularly impressed by its ease of on and off-loading There was a second appearance for Tidd Trailers' superbly built Rak-Pak chemical carrier; once again it attracted high marks for its temperature control, curtain tensioning and compliance with Hazchem and Health and Safety requirements. Another clever touch is its reversed temperature gauge which is visible in the driver's mirror. Once again, it was adjudged an outstanding entry.
Another exceptional entry was Transporter Engineering's Nine Plus car transporter which was awash with innovative design work. It doesn't look complicated but its new chassis frame and redesigned axle and suspension offers a wide rear entry with no brake drum intrusion. Air suspension spring mounts are very low down while single 285/70 19.5s with special wheel naves keep the overall width to just 2.55m. This gives good roll stability as well as maximum drive-through space.
Pillars have been made slimmer and its deck lifting mechanisms have been greatly improved too. The result is a new design of carrier that will hold up to nine large saloon cars or a mix of up to 11 smaller vehicles.