Special Purpose
10th October 1996
Page 54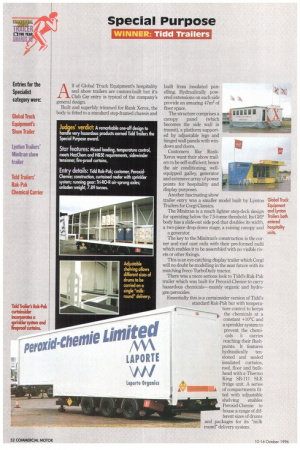 Page 54, 10th October 1996 —
Special Purpose
Close
All of Global Truck Equipment's hospitality and show trailers are custom-built but it's Club Car entry is typical of the company's general design.
Built and superbly trimmed for Rank Xerox, the body is fitted to a standard step-framed chassis and
built from insulated panelling. Hydraulically powered extensions on each side provide an amazing 47m2 of floor space.
The structure comprises a canopy panel (which becomes the side wall in transit), a platform supported by adjustable legs and hinged wall panels with windows and doors.
Customers like RankXerox want their show trailers to be self-sufficient; hence the air conditioning, wellequipped galley, generator and extensive array of power points for hospitality and display purposes.
Another fascinating show trailer entry was a smaller model built by Lynton Trailers for Corgi Classics.
The Minitran is a much lighter step-deck design for operating below the 7.5-tonne threshold. Its GRP body has a slide-out side pod that doubles its width, a two-piece drop-down stage, a raising canopy and a generator.
The key to the Minin-an's construction is the corner and roof cant rails with their pm-formed radii which enables it to be assembled with no visible rivets or other fixings.
This is an eye-catching display trailer which Corgi will no doubt be modelling in the near future with its matching Iveco TurboDaily tractor.
There was a more serious look to Tidd's Rak-Pak trailer which was built for Peroxid-Chemie to carry hazardous chemicals—mainly organic and hydrogen peroxides.
Essentially this is a curtainsider version of Tidd's standard Rak-Pak but with temperature control to keeps the chemicals at a constant +10°C and a sprinkler system to prevent the chemicals it carries reaching their flashpoints. It features hydraulically tensioned and sealed insulated curtains, roof, floor and bulk head with a Thermo King SB-111 SLE fridge unit. A series of compartments fitted with adjustable shelving enables Peroxid-Chemie to house a range of different sizes of drums and packages for its "milk round" delivery system.