Intermodal
10th October 1996
Page 52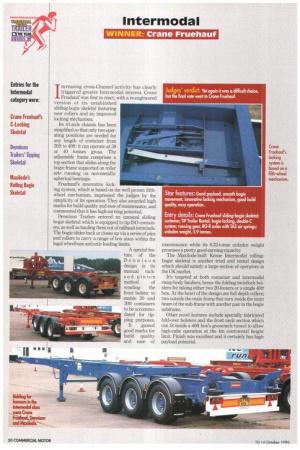 Page 52, 10th October 1996 —
Intermodal
Close
/ncreasing cross-Channel activity has clearly triggered greater Intermodal interest. Crane Fruehauf was first to react, with a re-engineered version of its established sliding-bogie skeletal featuring new rollers and an improved locking mechanism.
Its tri-axle chassis has been simplified so that only two operating positions are needed for any length of container from 20ft to 40ft: it can operate at 38 or 40 tonnes gross. The adjustable frame comprises a top section that slides along the bogie frame supported on roller sets running on non-metallic spherical bearings.
Fruehauf s innovative locking system, which is based on the well proven fifth. wheel mechanism, impressed the judges by the simplicity of its operation. They also awarded high marks for build quality and ease of maintenance, and commented that it has high earning potential.
Dennison Trailers entered an unusual sliding bogie skeletal which is equipped to tip ISO containers, as well as hauling them out of railhead terminals. The bogie slides back or closes up via a series of pins and rollers to carry a range of box sizes within the legal wheelbase and axle loading limits.
A special feature of the Dennison design is its manual rackand-pinion method of winding the front bolster to enable 20 and 30ft containers to be accommodated for tipping purposes.
It gained good marks for build quality and ease of maintenance while its 6.32-tonne unladen weight promises a pretty good earning capacity.
The Maxilode-built Krone Intermodal rollingbogie skeletal is another tried and tested design which should satisfy a large section of operators in the UK market.
It's targeted at both container and intermodal swap-body hauliers; hence the folding twistlock bolsters for taking either two 20-footers or a single 40ft box. At the heart of the design are full depth rollers: two outside the main frame that turn inside the main beam of the sub-frame with another pair in the bogie subframe.
Other novel features include specially fabricated fold-over bolsters and the front neck section which can fit inside a 40ft box's gooseneck tunnel to allow high-cube operation at the 4m continental height limit. Finish was excellent and it certainly has high payload potential.