Controlled Temperature
10th October 1996
Page 51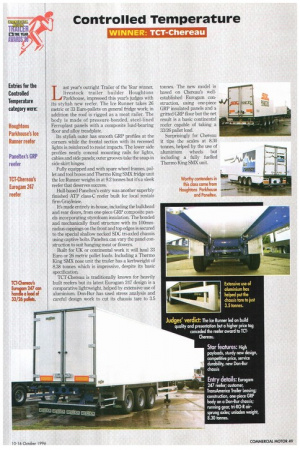 Page 51, 10th October 1996 —
Controlled Temperature
Close
Last year's outright Trailer of the Year winner, livestock trailer builder Houghtons Parkhouse, impressed this year's judges with its stylish new reefer. The Ice Runner takes 26 metric or 33 Euro-pallets on general fridge work; in addition the roof is rigged as a meat railer. The body is made of pressure-bonded, steel-lined Ferroplast panels with a composite load-bearing floor and alloy treadplate.
Its stylish outer has smooth GRP profiles at the corners while the frontal section with its recessed lights is reinforced to resist impacts. The lower side profiles neatly conceal mounting rails for lights, cables and side panels; outer grooves take the snap-in side skirt hinges.
Fully equipped and with spare wheel frames, pallet and tool boxes and Thermo King SMX fridge unit the Ice Runner weighs in at 9.2 tonnes but it's a sleek reefer that deserves success.
Hull-based Paneltex's entry was another superbly finished ATP class-C reefer built for local rentals firm Graylease.
It's made entirely in-house, including the bulkhead and rear doors, from one-piece GRP composite panels incorporating styrofoam insulation. The bonded and mechanically fixed structure with its 100mmradius cappings on the front and top edges is secured to the special shallow necked SDC tri-axled chassis using captive bolts. Paneltex can vary the panel construction to suit hanging meat or flowers.
Built for UK or continental work it will haul 33 Euro or 26 metric pallet loads. Including a Thermo King SMX nose unit the trailer has a kerbweight of 8.38 tonnes which is impressive, despite its basic specification.
TCT-Chereau is traditionally known for heavily built reefers but its latest Eurogam 247 design is a comparative lightweight, helped by extensive use of aluminium. Don-Bur has used stress analysis and careful design work to cut its chassis tare to 3.5 tonnes. The new model is based on Chereau's wellestablished Eurogam construction, using one-piece GRP insulated panels and a gritted GRP floor but the net result is a basic continental reefer capable of taking a 33/26 pallet load.
Surprisingly for Chereau it tips the scales at 8.30 tonnes, helped by the use of aluminium wheels but including a fully fuelled Thermo King SMX unit.