Tankers
10th October 1996
Page 50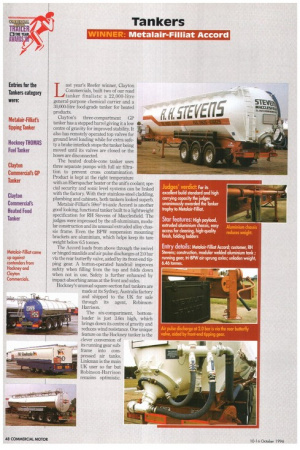 Page 50, 10th October 1996 —
Tankers
Close
Tast year's Reefer winner, Clayton Commercials, built two of our road Jtanker finalists: a 22,000-litre general-purpose chemical carrier and a
30,000-litre food-grade tanker for heated • products.
Clayton's three-compartment GP tanker has a stepped barrel giving it a low centre of gravity for improved stability. It also has remotely operated top valves for ground level loading while for extra safety a brake interlock stops the tanker being moved until its valves are closed or the hoses are disconnected.
The heated double-cone tanker uses three separate pumps with full air filtration to prevent cross contamination. Product is kept at the right temperature with an Eberspacher heater or the unit's coolant; special security and sonic level systems can be linked with the factory. With their stainless-steel cladding, plumbing and cabinets, both tankers looked superb.
Metalair-Filliat's 59m3 tri-axle Accord is another good looking, functional tanker built to a lightweight specification for RH Stevens of Macclesfield. The judges were impressed by the all-aluminium, modular construction and its unusual extruded alloy chassis frame. Even the BPW suspension mounting brackets are aluminium, which helps keep its tare weight below 6.5 tonnes.
The Accord loads from above through the swivel or hinged rnanlids and air pulse discharges at 2.0 bar via the rear butterfly valve, aided by its front-end tipping gear. A button-operated handrail improves safety when filling from the top and folds down when not in use. Safety is further enhanced by impact-absorbing areas at the front and sides.
Hockney's unusual square-section fuel tankers are made at its Sydney, Australia factory and shipped to the UK for sale through its agent, RobinsonHarrison.
The six-compartment, bottomloader is just 3.6m high, which brings down its centre of gravity and reduces wind resistance. One unique feature on the Hackney tanker is the clever conversion of its running gear subframe into compressed air talks. Linkman is the main UK user so far but Robinson-Harrison remains optimistic.