Bulkers
10th October 1996
Page 48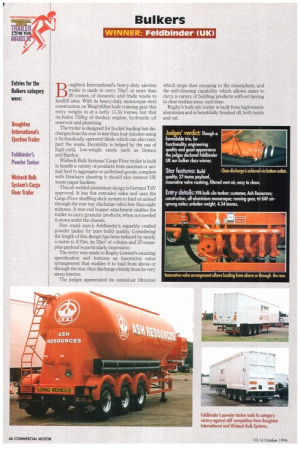 Page 48, 10th October 1996 —
Bulkers
Close
Boughton International's heavy-duty ejection trailer is made to carry 70m3, or more than 20 tonnes, of domestic and trade waste to landfill sites. With its heavy-duty monocoque steel construction on Weightlifter-built running gear this entry weighs in at a hefty 11.34 tonnes, but that includes 750kg of donkey engine, hydraulic oil reservoir and plumbing.
The trailer is designed for bucket loading but discharges from the rear in less than four minutes using a hydraulically operated blade which can also compact the waste. Durability is helped by the use of high-yield, low-weight steels such as Domex and Hardox.
Wisbech Bulk Systems' Cargo Floor trailer is built to handle a variety of products from sawdust or animal feed to aggregate or palletised goods; complete with Dawbarn sheeting it should also interest UK waste paper hauliers.
This all-welded aluminium design is German RN approved, it has flat extruded sides and uses the Cargo Floor shuffling-deck system to load or unload through the rear top; discharge takes less than eight minutes. A rear end hopper attachment enables the trailer to carry granular products; when not needed it stows under the chassis.
Few could match Feldbinder's superbly crafted powder tanker for pure build quality. Considering the length of this design has been reduced by nearly a metre to 825m, its 35m3 of volume and 27-tonneplus payload is particularly impressive.
The entry was made to Rugby Cement's exacting specification and features an innovative valve arrangement that enables it to load from above or through the rear, then discharge cleanly from its very steep interior.
The judges appreciated its vented-air filtration which stops dust escaping to the atmosphere, and the self-cleaning capability which allows users to carry a variety of building products without having to clear residue away each time.
Rugby's bulk silo trailer is built from high-tensile aluminium and is beautifully finished off, both inside and out.