Tippers
10th October 1996
Page 46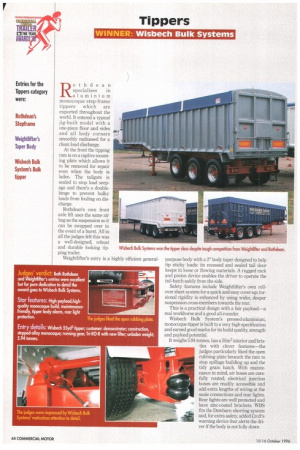 Page 46, 10th October 1996 —
Tippers
Close
Rothdean
specialises in aluminium monocoque step-frame tippers which are exported throughout the world. It entered a typical jig-built model with a one-piece floor and sides and all body corners smoothly radiussed for a clean load discharge.
At the front the tipping ram is on a captive mounting plate which allows it to be removed for repair even when the body is laden. The tailgate is sealed to stop load seepage and there's a doublehinge to prevent bulky loads from fouling on discharge.
Rothdean's own front axle lift uses the same air bag as the suspension so it can be swapped over in the event of a burst. All in all the judges felt this was a well-designed, robust and durable looking tipping trailer.
Weightlifter's entry is a highly efficient general purpose body with a 20 body taper designed to help tip sticky loads: its recessed and sealed tail door keeps in loose or flowing materials. A rugged rack and pinion device enables the driver to operate the tail-hatch safely from the side.
Safety features include Weightlifter's own rollover sheet system for a quick and easy cover-up; torsional rigidity is enhanced by using wider, deeper suspension cross-members towards the rear.
This is a practical design with a fair payload—a real workhorse and a good all-rounder.
Wisbech Bulk System's pressed-aluminium, monocoque tipper is built to a very high specification and earned good marks for its build quality, strength and payload potential.
It weighs 5.94 tonnes. has a 55m3 interior and bristles with clever features—the judges particularly liked the open rubbing plate beneath the ram to stop spillage building up and the tidy grain hatch. With maintenance in mind, air hoses are carefully routed; electrical junction boxes are readily accessible and add extra lengths of wiring at the suzie connections and rear lights. Rear lights are well protected and have zinc-coated brackets. WBS fits the Dawbarn sheeting system and, for extra safety, added Croft's warning device that alerts the driver if the body is not fully down