C onsidering how hard it is for truck operators to make
10th October 1996
Page 40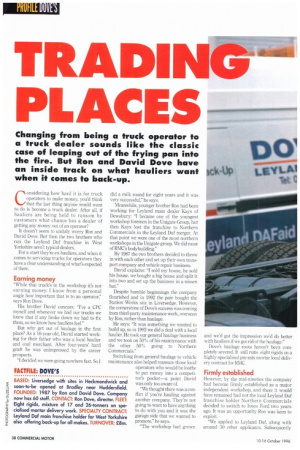 Page 41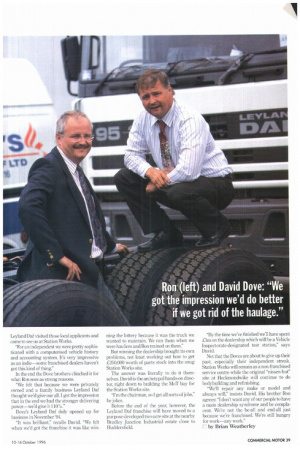 Page 40, 10th October 1996 —
C onsidering how hard it is for truck operators to make
Close
money, you'd think that the last thing anyone would want to do is become a truck dealer. After all, if hauliers are being held to ransom by customers what chance has a dealer of getting any money out of an operator?
It doesn't seem to unduly worry Ron and David Dove. But then the two brothers who run the Leyland Daf franchise in West Yorkshire aren't typical dealers.
For a start they're ex-hauliers, and when it comes to servicing trucks for operators they have a clear understanding of what's expected of them.
Earning money
"While that truck's in the workshop it's not earning money. I know from a personal angle how important that is to an operator," says Ron Dove.
His brother David concurs: "I've a CPC myself and whenever we had our trucks we knew that if any broke down we had to fix them, so we know how hauliers feel."
But why get out of haulage in the first place? As a 16-year-old, David started working for their father who was a local haulier and coal merchant. After four-years' hard graft he was unimpressed by the career prospects.
"I decided we were going nowhere fast. So I did a milk round for eight years and it +.N. very successful," he says.
Meanwhile, younger brother Ron had been working for Leyland main dealer Kays of Dewsbury: "I became one of the youngest workshop foremen in the Unigate Group, but then Kays lost the franchise to Northern Commercials in the Leyland Daf merger. At that point we were one of the most northern workshops in the Unigate group. We did most of RMC's bodybuilding."
By 1987 the two brothers decided to throw in with each other and set up their own transport company and vehicle repair business.
David explains: "I sold my house, he sold his house, we bought a big house and split it into two and set up the business in a nissen hut" Despite humble beginnings the company flourished and in 1992 the pair bought the Station Works site in Liversedge. However, the cornerstone of Dove's success was coming from third-party maintenance work, overseen by Ron, rather than haulage.
He says: "It was something we wanted to build up, so in 1992 we did a deal with a local haulier. He took our general haulage business and we took on 50% of his maintenance with the other 50% going to Northern Commercials."
Switching from general haulage to vehicle maintenance also helped reassure those local operators who would be loathe to put money into a competitor's pocket—a point David was only too aware of.
"We thought there was a conflict if you're hauling against another company. They're not going to want to have anything to do with you and it was the garage side that we wanted to promote," he says.
"The workshop had grown
and we'd got the impression we'd do better with hauliers if we got rid of the haulage."
Dove's haulage roots haven't been completely severed. It still runs eight rigids on a highly-specialised pre-mix mortar local delivery contract for RMC.
Firmly established
However, by the mid-nineties the company had become firmly established as a major independent workshop, and there it would have remained had not the local Leyland Daf franchise holder Northern Commercials decided to switch to lveco Ford two years ago. It was an opportunity Ron was keen to exploit.
"We applied to Leyland Daf, along with around 30 other applicants. Subsequently Leyland Daf visited those local applicants and came to see us at Station Works.
"For an independent we were pretty sophisticated with a computerised vehicle history and accounting system. It's very impressive as an indie some franchised dealers haven't got this kind of thing."
In the end the Dove brothers clinched it for what Ron sees as strong reasons.
"We felt that bemuse we were privately owned and a family business Leyland Daf thought we'd give our all. I got the impression that in the end we had the stronger delivering power—we'd give it 110%."
Dove's Leyland Daf duly opened up for business in November '94.
"It was brilliant," recalls David. "We felt when we'd got the franchise it was like win
ning the lottery because it was the truck we wanted to maintain. We ran them when we were hauliers and Ron trained on them."
But winning the dealership brought its own problems, not least working out how to get .£250,000 worth of parts stock into the snug Station Works site.
The answer was literally to do it themselves. David is the archetypal hands-on director, right down to building the MoT bay for the Station Works site.
"I'm the chairman, so I get all sorts of jobs," he jokes.
Before the end of the year, however, the Leyland Daf franchise will have moved to a purpose-developed two-acre site at the nearby Bradley Junction Industrial estate close to Huddersfield.
"By the time we've finished we'll have spent Lim on the dealership which will be a Vehicle Inspectorate-designated test station," says David.
Not that the Doves are about to give up their past, especially their independent streak. Station Works will remain as a non-franchised service centre while the original "nissen hut" site at Heckmondwike will continue to do bodybuilding and refinishing.
"We'll repair any make or model and always will," insists David. His brother Ron agrees: "I don't want any of our people to have a main dealership syndrome and be complacent. We're not the be-all and end-all just because we're franchised. We're still hungry for work—any work"
1— by Brian Weatherley