FOUR SEA MS
10th October 1996
Page 38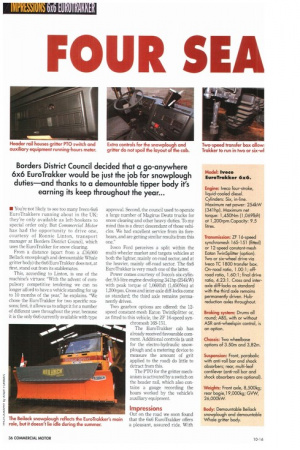 Page 39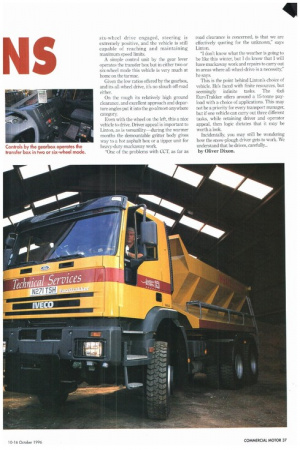 Page 38, 10th October 1996 —
FOUR SEA MS
Close
NI You're not likely to see too many Iveco 6x6 EuroTrakkers running about in the UK: they're only available as left-hookers to special order only. But Commercial Motor has had the opportunity to drive one, courtesy of Ronnie Linton, transport manager at Borders District Council, which uses the EuroTrakker for snow clearing.
From a distance (apart from a £16,000 Beilack snowplough and demountable Whale gritter body) the 6x6 EuroTrakker does not, at first, stand out from its stablemates.
This, according to Linton, is one of the machine's virtues: "With the advent of compulsory competitive tendering we can no longer afford to have a vehicle standing for up to 10 months of the year," he explains. "We chose the EuroTrakker for two specific reasons; first, it allows us to adapt it for a number of different uses throughout the year, because it is the only 6x6 currently available with type approval. Second, the council used to operate a large number of Magirus Deutz trucks for snow clearing and other heavy duties. To my mind this is a direct descendant of those vehicles. We had excellent service from its forebears, and are getting similar results from this one."
Iveco Ford perceives a split within the multi-wheeler market and targets vehicles at both the lighter, mainly on-road sector, and at the heavier, mainly off-road sector. The 6x6 EuroTrakker is very much one of the latter.
Power comes courtesy of Iveco's six-cylinder, 9.5-litre engine developing 341hp (254kW) with peak torque of 1,0691bft (1,450Nm) at 1,200rpm. Cross and inter-axle diff-locks come as standard; the third axle remains permanently driven.
Two gearbox options are offered: the 12speed constant-mesh Eaton TwinSplitter or, as fitted to this vehicle, the ZF 16-speed syn chromesh 16S-151.
The EuroTrakker cab has already received favourable comment. Additional controls (a unit for the electro-hydraulic snowplough and a metering device to measure the amount of grit applied to the road) do little to detract from this.
The PTO for the gritter mechanism is activated by a switch on the header rail, which also contains a gauge recording the hours worked by the vehicle's auxiliary equipment. six-wheel drive engaged, steering is extremely positive, and the vehicle is still capable of reaching and maintaining maximum speed limits.
A simple control unit by the gear lever operates the transfer box but in either two or six-wheel mode this vehicle is very much at home on the tarmac.
Given the low ratios offered by the gearbox, and its all-wheel drive, it's no slouch off-road either.
On the rough its relatively high ground clearance, and excellent approach and departure angles put it into the go-almost-anywhere category.
Even with the wheel on the left, this a nice vehicle to drive. Driver appeal is important to Linton, as is versatility—during the warmer months the demountable griller body gives way to a hot asphalt box or a tipper unit for heavy-duty muckaway work.
"One of the problems with CCT, as far as road clearance is concerned, is that we are effectively quoting for the unknown," says Linton.
"1 don't know what the weather is going to be like this winter, but I do know that 1 will have muckaway work and repairs to carry out in areas where all-wheel-drive is a necessity," he says.
This is the point behind Linton's choice of vehicle, lie's faced with finite resources, but seemingly infinite tasks. The 6x6 EuroTrakker offers around a I 5-tonne payload with a choice of applications. This may not be a priority for every transport manager, but if one vehicle can carry out three different tasks, while retaining driver and operator appeal, then logic dictates that it may be worth a look.
Incidentally, you may still be wondering how the snow-plough driver gets to work. We understand that he drives, carefully...
by Oliver Dixon.