Traffic jams are no excuse to break the drivers' hours rules
10th October 1996
Page 36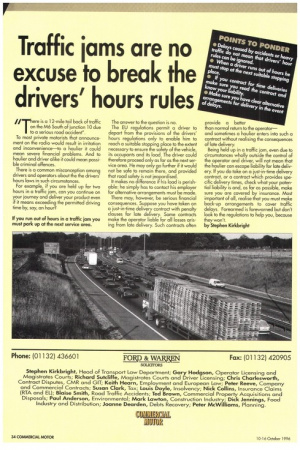 Page 36, 10th October 1996 —
Traffic jams are no excuse to break the drivers' hours rules
Close
//ere is a 12-mile tail back of traffic
on the M6 South of junction 10 due to a serious road accident".
To most private motorists that announcement on the radio would result in irritation and inconvenience—to a haulier it could mean severe financial problems. And to haulier and driver alike it could mean possible criminal offences.
There is a common misconception among drivers and operators about the the drivers' hours laws in such circumstances.
For example, if you are held up for two hours in a traffic jam, can you continue on your journey and deliver your product even if it means exceeding the permitted driving time by, say, an hour?
If you run out of hours in a traffic jam you must park up at the next service area. The answer to the question is no.
The EU regulations permit a driver to depart from the provisions of the drivers' hours regulations only to enable him to reach a suitable stopping place to the extent necessary to ensure the safety of the vehicle, its occupants and its load. The driver could therefore proceed only as far as the next service area. He may only go further if it would not be safe to remain there, and provided that road safety is not jeopardised. It makes no difference if his load is perishable: he simply has to contact his employer for alternative arrangements must be made. There may, however, be serious financial consequences. Suppose you have taken on a just-in-time delivery contract with penalty clauses for late delivery. Some contracts make the operator liable for all losses arising From late delivery. Such contracts often
and sometimes a haulier enters into such a contract without realising the consequences of late delivery.
Being held up in a traffic jam, even due to circumstances wholly outside the control of the operator and driver, will not mean that the haulier can escape liability for late delivery. If you do take on a just-in-time delivery contract, or a contract which provides specific delivery times, check what your potential liability is and, as far as possible, make sure you are covered by insurance. Most important of all, realise that you must make back-up arrangements to cover traffic delays. Forearmed is forewarned but don't look to the regulations to help you, because they won't.
by Stephen Kirkbright