vi Joncling to s rohibitions
10th October 1996
Page 34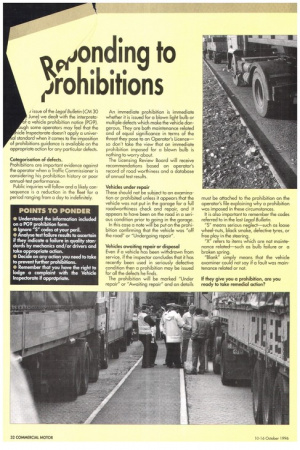 Page 35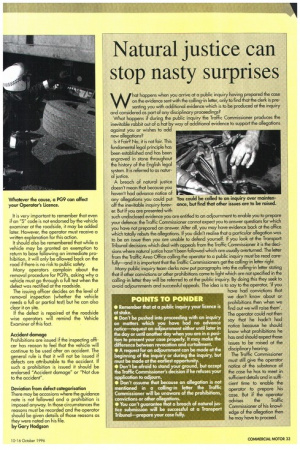 Page 34, 10th October 1996 —
vi Joncling to s rohibitions
Close
An immediate prohibition is immediate whether it is issued for a blown light bulb or multiple defects which make the vehicle dangerous. They are both maintenance related and of equal significance in terms of the threat they pose to an Operator's Licence— so don't take the view that an immediate prohibition imposed for a blown bulb is nothing to worry about. The Licensing Review Board will receive recommendations based on operator's record of road worthiness and a database of annual test results.
,r issue of the Legal Bulletin (CM 30 June) we dealt with the interpretaf a vehicle prohibition notice (PG9). ugh some operators may feel that the icle Inspectorate doesn't apply a univeral standard when it comes to the imposition of prohibitions guidance is available on the appropriate action for any particular defects.
Categorisation of defects. Prohibitions are important evidence against the operator when a Traffic Commissioner is considering his prohibition history or poor annual-test performance. Public inquiries will follow and a likely consequence is a reduction in the fleet for a period ranging from a day to indefinitely. Vehicles under repair These should not be subject to an examination or prohibited unless it appears that the vehicle was not put in the garage for a full roadworthiness check and repair, and it appears to have been on the road in a serious condition prior to going in the garage. In this case a note will be put on the prohibition confirming that the vehicle was "off the road" or "Undergoing repair".
Vehicles awaiting repair or disposal Even if a vehicle has been withdrawn From service, if the inspector concludes that it has recently been used in seriously defective condition then a prohibition may be issued for all the defects he finds.
The prohibition will be marked "Under repair" or "Awaiting repair" and art details must be attached to the prohibition on the operator's file explaining why a prohibition was imposed in these circumstances. It is also important to remember the codes referred to in the last Legal Bulletin. means serious neglect—such as loose wheel-nuts, black smoke, defective tyres, or free play in the steering. "X" refers to items which are not maintenance related—such as bulb failure or a broken spring. "Blank" simply means that the vehicle examiner could not say if a fault was maintenance related or not. It is very important to remember that even if an "5" code is not endorsed by the vehicle examiner at the roadside, it may be added later. However, the operator must receive a written explanation for this action.
It should also be remembered that while a vehicle may be granted an exemption to return to base following an immediate prohibition, it will only be allowed back on the road if there is no risk to public safety.
Many operators complain about the removal procedure for PG9s, asking why a vehicle must go through a full test when the defect was rectified at the roadside.
The issuing officer decides on the level of removal inspection (whether the vehicle needs a full or partial test) but he can also clear it on site.
If the defect is repaired at the roadside wise operators will remind the Vehicle Examiner of this fact.