Natural justice can stop nasty surprises
10th October 1996
Page 35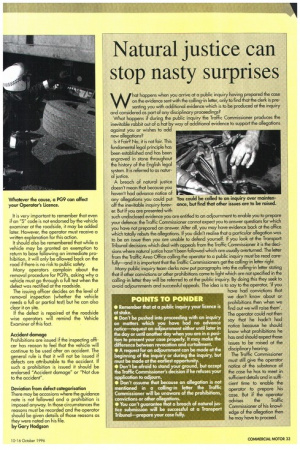 Page 35, 10th October 1996 —
Natural justice can stop nasty surprises
Close
What happens when you arrive at a public inquiry having prepared the case on the evidence sent with the calling-in letter, only to find that the clerk is presenting you with additional evidence which is to be produced at the inquiry and considered as part of any disciplinary proceedings?
What happens if during the public inquiry the Traffic Commissioner produces the inevitable rabbit out of a hat by way of additional evidence to support the allegations against you or wishes to add new allegations2 is it Fair? No, it is not fair This fundamental legal principle has been established and has been engraved in stone throughout the history of the English legal system. It is referred to as natur al justice.
A breach of natural justice doesn't mean that because you haven't had advance notice of any allegations you could put off the inevitable inquiry forev er. But if you are presented with such undisclosed evidence you are entitled to an adjournment to enable you to prepare your defence: the Traffic Commissioner cannot expect you to answer questions for which you have not prepared an answer. After all, you may have evidence back at the office which totally rebuts the allegations. If you didn't realise that a particular allegation was to be an issue then you are unable to defend yourself. If you look at the Transport Tribunal decisions which deal with appeals from the Traffic Commissioner it is the decisions where natural justice hasn't been followed which are usually overturned. The letter from the Traffic Area Office calling the operator to a public inquiry must be read carefully—and it is important that the Traffic Commissioners get the calling-in letter right. Many public inquiry team clerks now put paragraphs into the calling-in letter stating that if other convictions or other prohibitions come to light which are not specified in the calling-in letter they will be referred to at the public inquiry. By doing this they seek to avoid adjournments and successful appeals. The idea is to say to the operator, 'if you You could be called to an inquiry over maintenance, but find that other issues are to be raised.
have had convictions that we don't know about or prohibitions then when we find out we will raise them', The operator could not then say that he hadn't had notice because he should know what prohibitions he has and should expect those issues to be raised at the disciplinary hearing.
The Traffic Commissioner must still give the operator notice of the substance of the case he has to meet in sufficient details and in sufficient time to enable the operator to prepare his case. But if the operator advises the Traffic Commissioner of his knowledge of the allegation then he may have to proceed.