Trial offer
10th October 1996
Page 24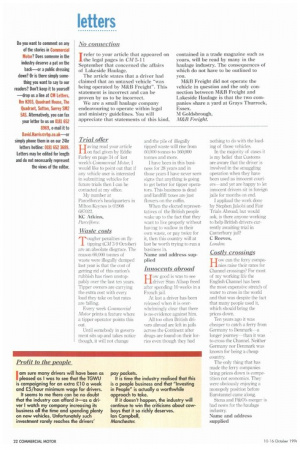 Page 24, 10th October 1996 —
Trial offer
Close
Having read your article on fuel given by Eddie Farley on page 34 of last week's Commercial Motor, I would like to point out that if any vehicle user is interested in submitting vehicles for future trials then I can be contacted at my office.
My number at Parcelforce's headquarters in Milton Keyne.s is 01908 687022.
KC Atkins, Porcelforce
Waste costs
Tougher penalties on flytipping (CM 3-9 October) are an absolute disgrace. The reason 60,000 tonnes of waste were illegally dumped last year is that the cost of getting rid of this nation's rubbish has risen unstoppably over the last ten years. Tipper owners are carrying the extra cost with every load they take on but rates are falling.
Every week Commercial Motor prints a feature where a tipper operator points this out.
Until somebody in government sits up and takes notice though, it will not change and the pile of illegally tipped waste will rise from 60,000 tonnes to 160,000 tonnes and more.
I have been in this business for 28 years and in those years I have never seen signs that anything is going to get better for tipper operators. This business is dead and landfill taxes are just flowers on the coffin.
When the elected representatives of the British people wake up to the fact that they want to live properly without having to wallow in their own waste, or pay twice for it, then this country will at last be worth trying to run a business in.
Name and address supplied
Innocents abroad
Howgood is was to see driver Stan Allsop freed after spending 10 weeks in a French jail.
At last a driver has been released when it is overwhelmingly clear that there is no evidence against him.
All too often British drivers abroad are left in jails across the Continent after drugs are found on their lorries even though they had nothing to do with the loading of those vehicles.
In the majority of cases it is my belief that Customs are aware that the driver is involved in the smuggling operation when they have been used as innocent couriers—and yet are happy to let innocent drivers sit in foreign jails for months on end.
I applaud the work done by Stephen Jakobi and Fair Trials Abroad, but would ask, is there anyone working to help British drivers currently awaiting trial in Canterbury jail?
C Reeves, Lonciwi.
Costly crossings
How can the ferry companies raise their rates for Channel crossings? For most of my working life the English Channel has been the most expensive stretch of water to cross in the world and that was despite the fact that many people used it, which should bring the prices down.
Ten years ago it was cheaper to catch a ferry from Germany to Denmark—a longer journey—than it was to cross the Channel. Neither Germany nor Denmark was known for being a cheap country.
The only thing that has made the ferry companies bring prices down is competition not economics. They were obviously enjoying a monopoly position before Eurotunnel came along.
Stena and MO's merger is bad news for the haulage industry Name and address supplied