Lakeside Haulage is under scrutiny
10th October 1996
Page 21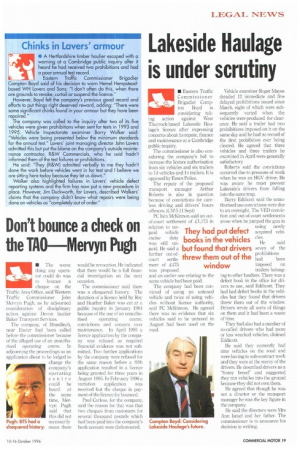 Page 21, 10th October 1996 —
Lakeside Haulage is under scrutiny
Close
• Eastern Traffic Commissioner Brigadier Compton Boyd is considering taking action against West Thurrock-based Lakeside Haulage's licence after expressing concerns about its repute, finance and maintenance at a Cambridge public inquiry.
The commissioner is also considering the company's bid to increase the licence authorisation from six vehicles and six trailers to 14 vehicles and 14 trailers. It is opposed by Essex Police, The repute of the proposed transport manager Arthur Roberts is also in question because of convictions for careless driving and drivers' hours offences. (C.M5-11 Sept) PC lain McKinnon said an outof-court settlement of £1,173 in relation to unpaid vehicle excise duty was still unpaid. He said a further out-ofcourt settlement of £475 was proposed and an earlier one relating to the same vehicle had been paid.
The company had been convicted of using an untaxed vehicle and twice of using vehicles without licence authority, said PC McKinnon. He agreed there was no evidence that six vehicles said to be untaxed in August had been used on the road. Vehicle examiner Roger Mayes detailed 12 immediate and five delayed prohibitions issued since March, eight of which were subsequently varied when the vehicles were produced for clearance. He said a trailer had two prohibitions imposed on it on the same day and he had no record of the first prohibition ever being cleared. He agreed that three vehicles and three trailers he examined in April were generally satisfactory.
Roberts said the convictions occurred due to pressure of work when he was an HGV driver. He was aware he must prevent Lakeside's drivers from falling into the same trap.
Barry Eddicott said the unauthorised use convictions were due to an oversight. The VED conviction and out-of-court settlements arose when he jumped the gun in using newly acquired vehicles.
He said seven of the prohibitions had been imposed on trailers belong-. ing to other hauliers. There was a defect book in the office for drivers to use, said Eddicott. They had had defect hooks in the vehicles but they found that drivers threw them out of the window. Drivers wrote all sorts of things on them and it had been a waste of time.
They had also had a number of so-called drivers who had more or less wrecked vehicles, claimed Eddicott.
He said they currently had nine vehicles on the road and were haying to sub-contract work and they were at the mercy of the drivers. He described drivers as a "funny breed" and suggested they ran vehicles into the ground because they did not own them.
He agreed that though he was not a director or the transport manager he was the key figure in the company He said the directors were Mrs Ann Israel and her father. The commissioner is to announce his decision in writing.