Smooth on the rough
10th October 1996
Page 19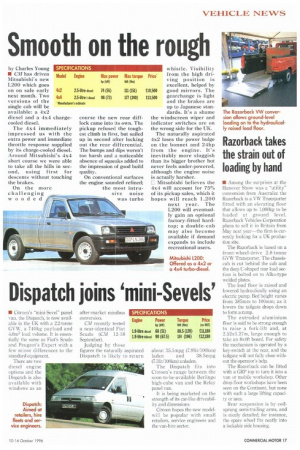 Page 19, 10th October 1996 —
Smooth on the rough
Close
by Charles Young
' Malotactmrer's estimate
Model 4x2 4x4 • CM has driven Mitsubishi's new L200 which goes on on sale early next month. Two versions of the single cab will be available: a 4x2 diesel and a 4x4 chargecooled diesel.
The 4x4 immediately impressed us with the extra power and immediate throttle response supplied by its charge-cooled diesel. Around Mitsubishi's 4x4 short course we were able to take all the hills in second, using first for descents without touching the brakes.
On the more challenging wooded course the new rear difflock came into its own. The pickup refused the toughest climb in first, but sailed up in second after locking out the rear differential. The bumps and clips weren't too harsh and a noticeable absence of squeaks added to the impression of good build quality.
On conventional surfaces the engine sounded refined; the most intrusive noise was turbo Nee'
whistle. Visibility from the high driving position is excellent, helped by good mirrors. The gearchange is light and the brakes are up to Japanese standards. It's a shame the windscreen wiper and indicator switches are on the wrong side for the UK.
The naturally aspirated 4x2 loses the power bulge on the bonnet and 24hp from the engine. It's inevitably more sluggish than its bigger brother but never feels under-powered, although the engine noise is actually harsher.
E Mitsubishi believes the 4x4 will account for 75% of its pickup sales, which it hopes will reach 1,200 next year. The L200 will eventually gain an optional factory-fitted hardtop; a double-cab may also become available if demand expands to include recreational users.