Razorback takes the strain out of loading by hand
10th October 1996
Page 19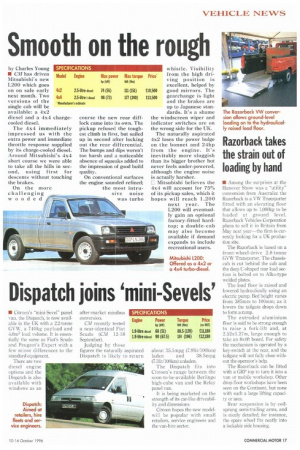 Page 19, 10th October 1996 —
Razorback takes the strain out of loading by hand
Close
• Among the surprises at the Hanover Show was a "utility" conversion from Australia: the Razorback is a VW Transporter fitted with an elevating floor that allows up to 1,000kg to be loaded at ground level. Razorback Vehicles Corporation plans to sell it in Britain from May next year—the firm is currently looking for a UK production site.
The Razorback is based on a front-wheel-drive 2.8-tonne GVW Transporter. The chassiscab is cut behind the cab and the deep U-shaped rear load section is bolted on to Alko-type welded plates.
The load floor is raised and lowered hydraulically using an electric pump. Bed height varies from 385mm to 100min; as it lowers the tailgate drops down to form a ramp.
The extruded aluminium floor is said to be strong enough to raise a fork-lift and, at 2.52x1.27m, large enough to take an 8x4ft board. For safety the mechanism is operated by a key-switch at the rear, and the tailgate wilt not fully close without the operator's help.
The Razorback can be fitted with a GRP top to turn it into a van or mobile workshop. Other drop-floor workshops have been seen on the Continent, but none with such a large lifting capacity or area.
Rear suspension is by coilsprung semi-trailing arms, and is nicely detailed; for instance, the spare wheel fits neatly into a lockable side housing.