True grit drops in
10th October 1996
Page 18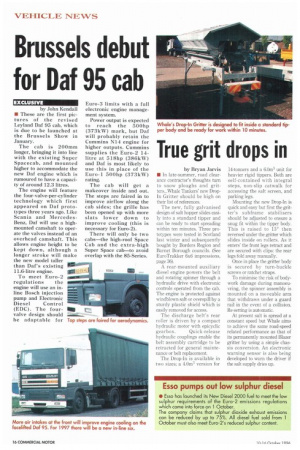 Page 18, 10th October 1996 —
True grit drops in
Close
by Bryan Jarvis • In late-summer, road clearance contractor's thoughts turn to snow ploughs and gritters...Whale Tankers new DropIn Gritter should be high on their list of references.
The new, fully galvanised design of salt hopper slides easily into a standard tipper and can be ready to start spreading within ten minutes. Three prototypes were tested in Scotland last winter and subsequently bought by Borders Region and Barnet Borough councils. (See EuroTrakker 6x6 impressions, page 36).
A rear-mounted auxiliary diesel engine powers the belt and rotating spinner through a hydraulic drive with electronic controls operated from the cab. The engine is protected against windblown salt or overspill by a sturdy plastic shield which is easily removed for access.
The discharge belt's rear roller is driven by a compact hydraulic motor with epicyclic gearbox. Quick-release hydraulic couplings enable the belt assembly cartridge to be retracted for general maintenance or belt replacement
The Drop-In is available in two sizes; a 4.0m3 version for 14-tonners and a 6.0m3 unit for heavier rigid tippers. Both are self-contained with integral steps, non-slip catwalk for accessing the salt screen, and parking legs.
Mounting the new Drop-In is quick and easy but first the gritter's subframe stabilisers should be adjusted to ensure a snug fit within the tipper body. This is raised to 15° then reversed under the gritter which slides inside on rollers. As it enters' the front legs retract and are secured with clips: the rear legs fold away manually.
Once in place the gritter body is secured by turn-buckle screws or ratchet straps.
To minimise the risk of bodywork damage during manoeuvring, the spinner assembly is mounted on a moveable arm that withdraws under a guard rail in the event of a collision. Re-setting is automatic.
At present salt is spread at a constant speed but Whale aims to achieve the same road-speed related performance as that of its permanently mounted Blazer gritter by using a simple chassis conversion. An electronic warning sensor is also being developed to warn the driver if the salt supply dries up.