Brussels debut for Daf 95 cab
10th October 1996
Page 18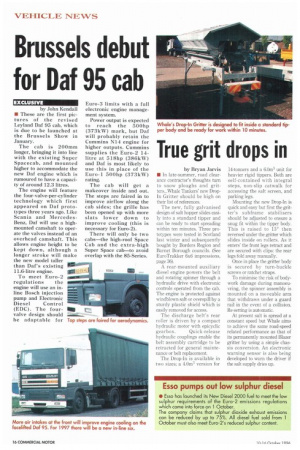 Page 18, 10th October 1996 —
Brussels debut for Daf 95 cab
Close
EXCLUSIVE by John Kendall • These are the first pictures of the revised Leyland Daf 95 cab, which is due to be launched at the Brussels Show in January.
The cab is 200mm longer, bringing it into line with the existing Super Spacecab, and mounted higher to accommodate the new Daf engine which is rumoured to have a capacity of around 12.3 litres.
The engine will feature the four-valve-per-cylinder technology which first appeared on Daf prototypes three years ago. Like Scania and MercedesBenz, Daf will use a highmounted camshaft to operate the valves instead of an overhead camshaft. This allows engine height to be kept down, although a longer stroke will make the new model taller than Daf's existing 11.6-litre engine.
To meet Euro-2 regulations the engine will use an inline Bosch injection pump and Electronic Diesel Control (EDC). The f ourvalve design should be adaptable for Euro-3 limits with a full electronic engine management system.
Power output is expected to reach the 500hp (373kW) mark, but Daf will probably retain the Cummins N14 engine for higher outputs. Cummins supplies the Euro-2 14litre at 518hp (386kW) and Daf is most likely to use this in place of the Euro-1 500hp (373kW) rating.
The cab will get a makeover inside and out. The steps are faired in to improve airflow along the cab sides; the grille has been opened up with more slats lower down to improve cooling (this is necessary for Euro-2).
There will only be two cabs—the high-roof Space Cab and the extra-high Super Space cab—to avoid overlap with the 85-Series.