TIM in bidding for RfD
10th October 1996
Page 15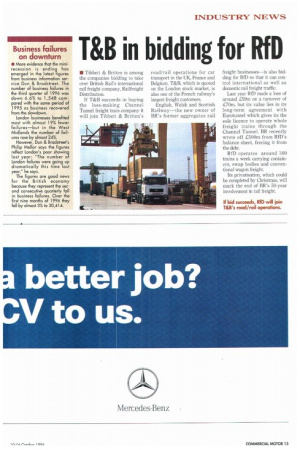 Page 15, 10th October 1996 —
TIM in bidding for RfD
Close
• Tibbett & Britten is among the companies bidding to take over British Rail's international rail freight company, Railfreight Distribution.
If T&B succeeds in buying the loss-making Channel Tunnel freight train company it will join Tibbett &. Britten's road/rail operations for car transport in the UK, France and Belgium. T&B, which is quoted on the London stock market, is also one of the French railway's largest freight customers.
English, Welsh and Scottish Railway—the new owner of BR's former aggregates rail
freight businesses—is also bidding for RfD so that it can control international as well as domestic rail freight traffic.
Last year RfD made a toss of around .£59m on a turnover of £70m, but its value lies in its long-term agreement with Eurotunnel which gives its the sole licence to operate whole freight trains through the Channel Tunnel, BR recently wrote off £500m from RfD's balance sheet, freeing it from the debt.
RfD operates around 160 trains a week carrying containers, swap bodies and conventional wagon freight.
Its privatisation, which could be completed by Christmas, will mark the end of BR's 50-year involvement in rail freight.