Call for a night's rest
10th October 1996
Page 14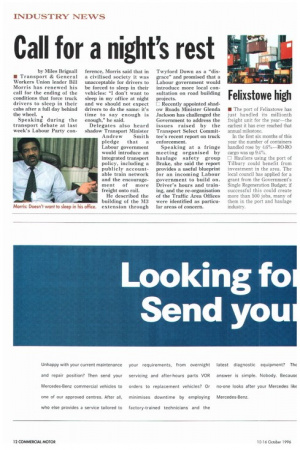 Page 14, 10th October 1996 —
Call for a night's rest
Close
by Miles Brignall • Transport & General Workers Union leader Bill Morris has renewed his call for the ending of the conditions that force truck drivers to sleep in their cabs after a full day behind the wheel.
Speaking during the transport debate at last week's Labour Party con ference, Morris said that in a civilised society it was unacceptable for drivers to be forced to sleep in their vehicles: "I don't want to sleep in my office at night and we should not expect drivers to do the same: it's time to say enough is enough," he said.
Delegates also heard shadow Transport Minister Andrew Smith pledge that a Labour government would introduce an integrated transport policy, including a publicly accountable train network and the encouragement of more freight onto rail.
He described the building of the M3 extension through Twyford Down as a "disgrace" and promised that a Labour government would introduce more local consultation on road building projects.
E Recently appointed shadow Roads Minister Glenda Jackson has challenged the Government to address the issues raised by the Transport Select Committee's recent report on truck enforcement.
Speaking at a fringe meeting organised by haulage safety group Brake, she said the report provides a useful blueprint for an incoming Labour government to build on. Driver's hours and training, and the re-organisation of the Traffic Area Offices were identified as particular areas of concern.