Threat to link licence loss to any criminal offence
10th October 1996
Page 10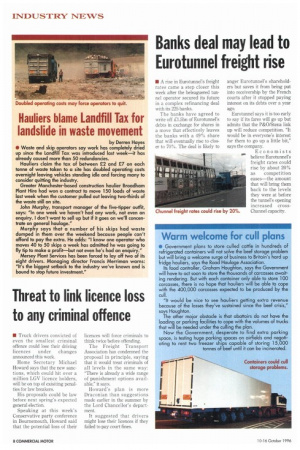 Page 10, 10th October 1996 —
Threat to link licence loss to any criminal offence
Close
• Truck drivers convicted of even the smallest criminal offence could lose their driving licences under changes announced this week.
Home Secretary Michael Howard says that the new sanctions, which could hit over a million LGV licence holders, will be on top of exisiting penalties for law breakers.
His proposals could be law before next spring's expected general election.
Speaking at this week's Conservative party conference in Bournemouth, Howard said that the potential loss of their licences will force criminals to think twice before offending.
The Freight Transport Association has condemned the proposal in principle, saying that it would treat criminals of all levels in the same way: "There is already a wide range of punishment options available," it says.
Howard's plan is more Draconian than suggestions made earlier in the summer by the Lord Chancellor's department.
It suggested that drivers might lose their licences if they failed to pay court fines.