Banks deal may lead to Eurotunnel freight rise
10th October 1996
Page 10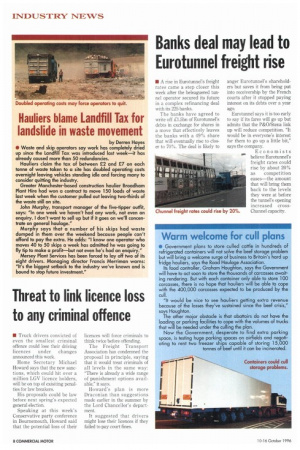 Page 10, 10th October 1996 —
Banks deal may lead to Eurotunnel freight rise
Close
• A rise in Eurotunnel's freight rates came a step closer this week after the beleaguered tunnel operator secured its future in a complex refinancing deal with its 225 banks.
The banks have agreed to write off L1.5bn of Eurotunnel's debts in exchange for shares in a move that effectively leaves the banks with a 49% share that will eventually rise to closer to 70%. The deal is likely to anger Eurotunnel's shareholders but saves it from being put into receivership by the French courts after it stopped paying interest on its debts over a year ago.
Eurotunnel says it is too early to say if its fares will go up but admits that the P&O/Stena link up will reduce competition. "It would be in everyone's interest for them to go up a little bit," says the company.
Economists believe Eurotunnel's freight rates could rise by about 20% as competition eases—the amount that will bring them back to the levels they were at before the tunnel's opening increased crossChannel capacity.