South-east England
10th October 1981
Page 55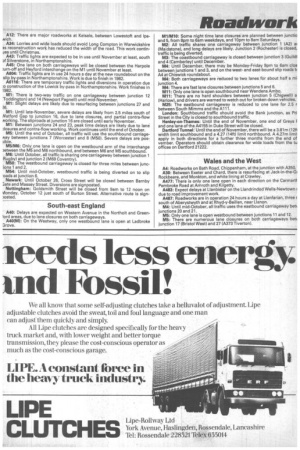 Page 55, 10th October 1981 —
South-east England
Close
A40: Delays are expected on Western Avenue in the Northolt and Greenford areas, due to lane closures on both carriageways. A40iM): On the Westway, only one westbound lane is open at Ladbroke 3rove. M1/M10: Some night time lane closures are planned between junctio and 5, from 8pm to fiam weekdays, and lOpm to 8am Saturdays. M2: All traffic shares one carriageway between junction 1 (A2) ai (Maidstone), and long delays are likely. Junction 2 (Rochester) is closed, traffic is being diverted. M3: The coastbound carriageway is closed between junction 3 (Guild1 and 4 (Camberley) until December. M4: Until December, there may be Monday-Friday 9pm to 6am clos between junctions 1 and 3, and on the westand east-bound slip roads tr A4 at Chiswick roundabout, M4: Both carriageways are reduced to two lanes for about half a mi junction 4. M4: There are fast lane closures between junctions Sand 6.
M11: Only one lane is open southbound near Wendens Arnbo. M11: There are no hard shoulders between junction 5 (Chigwell) a (Harlow), and drivers are warned to watch out for broken down vehicles.
M25: The eastbound carriageway is reduced to one lane for 2.5 r between South Mimms and the A111.
London: Southbound traffic should avoid the Bank junction, as Pri Street in the City is closed to south bound traffic. Henley-on-Thames: Until the end of November, one end of Greys and one lane of the A4155 in Duke Street will be closed.
Dartford Tunnel: Until the end of November, there will be a 3.81m (1211 width limit southbound and a 4.27 (14ft) limit northbound. A 4.27m limii apply in both directions for a further three months from the end of vernber. Operators should obtain clearance for wide loads from the tu offices on Dartford 21222.