Northern England
10th October 1981
Page 54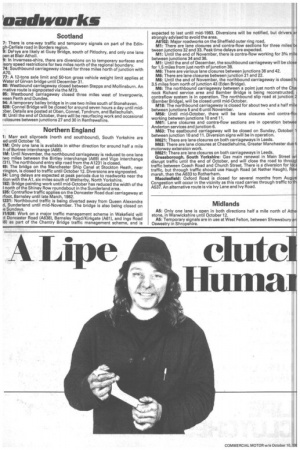 Page 54, 10th October 1981 —
Northern England
Close
Keywords :
Roads In England
,
Types Of Roads
,
Transport In Buckinghamshire
,
M1 Motorway
,
Transport In Sheffield
,
Reversible Lane
,
Dual Carriageway
,
Motorway
,
A6 Road
,
A1 Road
,
Contraflow Lane Reversal
,
M40 Motorway
,
Environment
1: Marr exit sliproads (north and southbound), South Yorkshire are ed until October 16.
1M: Only one lane is available in either direction for around half a mile h of Burtree interchange (A68).
1M: Until November, the northbound carriageway is reduced to one lane two miles between the Birtley interchange (A69) and Vigo interchange z31). The northbound entry slip road from the A1231 is closed. 69: The bridge on the Manchester Ship Canal at Stockton Heath, near rington, is closed to traffic until October 12. Diversions are signposted. 54: Long delays are expected at peak periods due to roadworks near the tion with the A1, six miles south of Wetherby, North Yorkshire. 182: Bridge painting work until mid-October has reduced the width of the i north of the Shiney Row roundabout in the Sunderland area.
535: Contraflow traffic applies on the Doncaster Road dual carriageway at rfoot, Barnsley until late March, 1982: 1231: Northbound traffic is being diverted away from Queen Alexandra d, Sunderland until mid-November. The bridge is also being closed on le Sundays.
51/638: Work on a major traffic management scheme in Wakefield will :•.t Doncaster Road (A638), Barnsley Road/Kirkgate (A61), and Ings Road 18) as part of the Chantry Bridge traffic management scheme, and is expected to last until mid-1983. Diversions will be notified, but drivers ar strongly advised to avoid the area. A6102: Major roadworks on the Sheffield outer ring road. Ml: There are lane closures and contra-flow sections for three miles b( tween junctions 32 and 33. Peak time delays are expected.
Ml: Until the end of November, there is contra-flow working for 33/4 mile between junctions 34 and 36.
Ml: Until the end of December, the southbound carriageway will be close for 1.5 miles from just north of junction 38. M6: There are various lane closures between junctions 36 and 42. M6: There are lane closures between junction 21 and 22_ M6: Until the end of November, the northbound carriageway is closed fc 3.5 miles from north of junction 43 (Eden Bridge). M6: The northbound carriageway between a point just north of the Chai hock Richard service area and Bamber Bridge is being reconstructed. , contraflow system is in operation. The northbound slip road at junction 2 (Bamber Bridge), will be closed until mid-October. M18: The northbound carriageway is closed for about two and a half mile between junctions 5 and 6 until November. M56: Until mid-October, there will be lane closures and contra-flON working between junctions 10 and 11. M61: Lane closures and contra-flow sections are in operation betwee Anderton services and junction 6.
M63: The eastbound carriageway will be closed on Sunday, October 1 between junction 10 and 11. Diversion signs will be in operation.
M621: There are lane closures on both carriageways in Leeds. M63: There are lane closures at Cheadlehulme, Greater Manchester duet' motorway extension work. M621: There are lane closures on both carriageways in Leeds. Greasborough, South Yorkshire: Gas main renewal in Main Street wi disrupt traffic until the end of October, and will close the road to througl traffic between Coach Road and Church Street, There is a diversion for loce traffic, but through traffic should use Haugh Road (at Nether Haugh), Ray% marsh, then the A633 to Rotherham. Macclesfield: Oxford Road is closed for several months from August Congestion will occur in the vicinity as this road carries through traffic to tb A537. An alternative route is via Ivy Lane and Ivy Road.