Easy type approval
10th October 1981
Page 3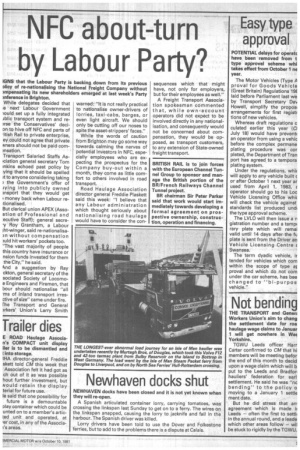 Page 3, 10th October 1981 —
Easy type approval
Close
POTENTIAL delays for operatc have been removed from t type approval scheme whi takes effect from October 1 cc year.
The Motor Vehicles (Type A proval for Goods Vehicle (Great Britain) Regulations 19E laid before Parliament last we by Transport Secretary Dax, Howell, simplify the propos( arrangements for first registr tions of new vehicles.
Whereas draft regulations c culated earlier this year (C/ July 18) would have prevent( an operator from using a vehic before the complex permane plating procedure was cor pleted, the Department of Tran port has agreed to a tempora plating system.
Under the regulations, whic will apply to any vehicle built c or after October 1 next year ar
used from April 1, 1983, C operator should go to his Loc
Vehicle Licensing Office whir will check the vehicle against standards list produced undl the type approval scheme.
The LVLO will then issue a ri gistration number and a temp(
rary plate which will remai valid until 14 days after the fu plate is sent from the Driver an Vehicle Licensing Centre E Swansea.
The term dyadic vehicle, ir tended for vehicles which corn within the scope of type proval and which do not corn under the car scheme, has bee changed to "bi-purpos vehicle."