The breakdown on breakers
10th October 1981
Page 15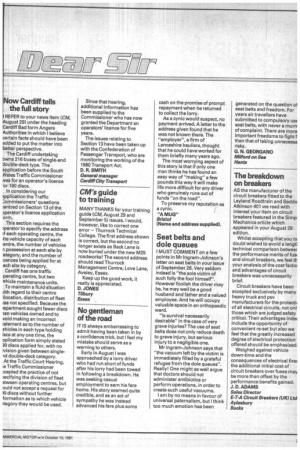 Page 15, 10th October 1981 —
The breakdown on breakers
Close
AS the manufacturer of the circuit breakers fitted to the Leyland Roadtrain and Seddo Atkinson 401 we read with interest your item on circuit breakers featured in the Simp Mechanics article which appeared in your August 29 edition.
Whilst accepting that you roc doubt wished to avoid a lengt1 technical comparison betweer the performance merits of fusi and circuit breakers, we feel th your analysis of the cost factoi and advantages of circuit breakers was unnecessarily brief.
Circuit breakers have been accepted exclusively by many heavy truck and psv manufacturers for the protectii of all electrical circuits, not onl. those which are judged safety critical. Their advantages inder include the opportunity of convenient re-set but also we feel that the greatly increased degree of electrical protection offered should be emphasised.
Weighed against vehicle down-time and the consequences of electrical fire! the additional initial cost of circuit breakers over fuses may be more than offset by the performance benefits gained. J. D. ADAMS Sales Director E-T-A Circuit Breakers (UK) Ltd Aylesbury Bucks