Now Cardiff tells the full story
10th October 1981
Page 15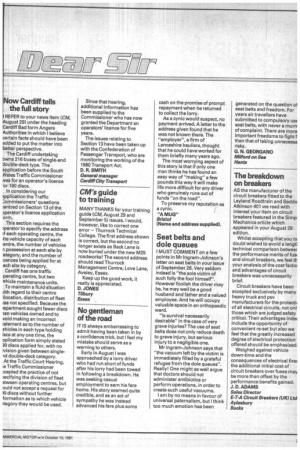 Page 15, 10th October 1981 —
Now Cardiff tells the full story
Close
REFER to your news item (CM, August 29) under the heading Cardiff Bad form Angers Authorities in which I believe certain facts should have been added to put the matter into better perspective.
The Cardiff undertaking owns 216 buses of single-and double-deck type. The application before the South Nales Traffic Commissioner was for an operator's licence or 190 discs.
In considering our application the Traffic :ommissioners' questions :entred on Section 13 of the operator's licence application orm.
This section requires the operator to specify the address of each operating centre, the ite vehicle capacity of each :entre, the number of vehicles ro possession at each site by ategory, and the number of cences being applied for at ach site by category.
Cardiff has one traffic perating centre, but two ehicle maintenance units. To maintain a fluid situation /Rh regard to their centre !location, distribution of fleet as not specified. Because the iepartment sought fewer discs an vehicles owned and to void making an incorrect tatement as to the number of ehicles in each type holding iscs at any one time, the oplication form simply stated 30 discs applied for, with no ivision given between singled double-deck category. At the Traffic Court Hearing, le Traffic Commissioner ;cepted the practice of not aecifying the division of fleet 3tween operating centres, but ould not accept a request for 10 discs without further formation as to which vehicle itegory they would be used.
Since that hearing, additional information has been supplied to the Commissioner who has now granted the Department an operators' licence for five years.
The issues relating to Section 13 have been taken up with the Confederation of Passenger Transport, who are monitoring the working of the 1980 Transport Act.
D. R. SMITH General manager Cardiff City Transport