12-month licences only
10th October 1981
Page 13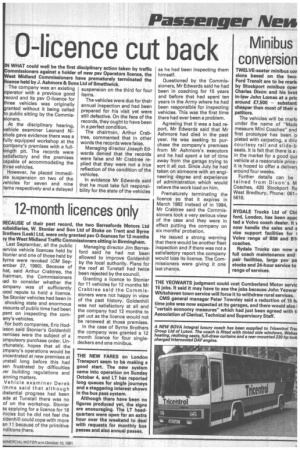 Page 13, 10th October 1981 —
12-month licences only
Close
Keywords :
BECAUSE of their past record, the two Berresfords Motors Ltd subsidiaries, W. Stonier and Son Ltd of Stoke on Trent and Byrne Brothers (Leek) Ltd, were only granted psv 0-licences for 12 months w the West Midland Traffic Commissioners sitting in Birmingham.
Last September, all the public ;ervice vehicle licences held by 3tonier and one of those held by 3yrne were revoked (CM Sepember 27, 1980). Because of hat, said Arthur Crabtree, the :hairman, the Commissioners lad to consider whether the ompany was of sufficiently lood repute to hold a licence. he Stonier vehicles had been in
shocking state and enormous mounts of public time had been pent on inspecting the cornany's vehicles.
For both companies, Eric Hodlsson said Stonier's Goldenhill remises were the subject of a Dmpulsory purchase order. Un)rtunately, hopes that all the )mpany's operations would be )ncentrated at new premises at install long before this had aen frustrated by difficulties rer building regulations and anning matters.
Vehicle examiner Derek imms said that although ibstantial progress had been ade at Tunstall there was no of on the workshop. Stonier as applying for a licence for 18 ,hides but he did not feel the )Idenhill could cope with more an 11 because of the primitive ndltions there.
Managing director Jim Berresford said he had not been allowed to improve Goldenhill by the local authority. Plans for the roof at Tunstall had twice been rejected by the council.
Granting a licence to Stonier for 11 vehicles for 12 months Mr Crabtree said the Commissioners were not happy in view of the past history. Goldenhill was not satisfactory at all and the company had 12 months to get out as the licence would not be renewed at those premises.
In the case of Byrne Brothers the company was granted a 12 month licence for four singledeckers and one minibus.