DE DION-BOUTON ABSORBED.
10th October 1918
Page 7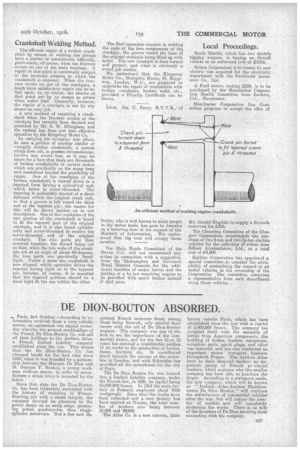 Page 7, 10th October 1918 —
DE DION-BOUTON ABSORBED.
Close
Paris, 2nd October.—According to-information received from a very reliable source, an agreement was signed yesterday whereby the present stockholders of the French De Dion-Bouton Co. will sell all their holdings to 'the Ateliers Atlas, a French limited liability company established since the -war. This means that the De Dion-Bouton Co. has changed hands for the first time since 1882, when it was founded by a partnership between the Marquis De Dion and M. Georges T. Benton, a young workman without means, in order to manufacture a steam tricycle invented by the latter.
Since that date the De Dion-Bouton Co. has been intimately associated with the history of motoring in France. Starting out with a steam tricycle, the company devoted its attention to the petrol motor at an early stage, producing petrol quadricyeles, then singlecylinder motorcars. Not a few now im portant French motorcar firmi among them being Renault, only started their career with the aid of De Dion-Bouton engines. The company was one of the first to see the importance of the -c'ommcrcial motor, and for the last 10 or 12 years has devoted a considerable portion of its works to the production of lorries, buses, tractors, etc. It contributed much towards the success of the motorbus in London, and with Schneider has provided all the motorbuses for the city of Paris.
The De Dion Bouton Co. was formed into a limited liability company, under. the French law, in 1908. its capital being 15,000 OCO francs. In 1914 the main factory at Puteanx employed about 7000 workpeople. Since then the Works have been extended. and a new factory has been erected at Nantes, the total number of workers now being between 15,000 and 1Ee000.
The Atlas Co. is a new concern, little
known outside Paris, which has been established since the war with a capital Of 5,000,000 francs. The company has occupied itself with the assembly of lorries from American components, _the building of betties, trailers, aeroplanes, aeroplane parts, spark plugs, and other war material, and has also conducted an important motor transport business throughout France. The .Ateliers Atlas have as their financial backers an important group of French pr vincial bankers, which explains why the smaller company has been able to purchase the larger. According to a statement made, the new company, which will be known as"Ateliers Atlas-Anciens Etablissements De Dion Boutori," will continue the minufacture of commercial vehicles' after the war, hut will reduce the number of models, and will completely . modernize the works. There is no talk of the founders of De Dion severing their connection with the company.