THE RISKS OF THE A.S.C., M.T.
10th October 1918
Page 3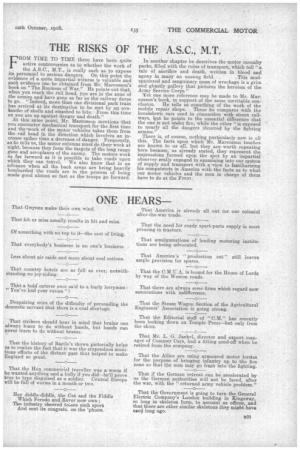 Page 3, 10th October 1918 —
THE RISKS OF THE A.S.C., M.T.
Close
FROM TIME TO TIME there have been quite active controversies as to whether the work of the A.S.C., M.T., is really such as to expose its personnel to serious dangers. On this point the evidence of a quite impartial witness is valuable and such evidence can be obtained from Mr. Marcosson's book on "The Business of War." He points out that, when you reach the rail head, yeu are in the zone of the armies and have gone as far as the railway dares to go. " Indeed, more than one divisional park train
_ has arrived at its destination to be met by an avalanche of shells and smashed to bits. From this time on you are up against danger and death."
At this same point, Mr. Marcosson mentions that you encounter Mechanical transport for the first time and the•work of the motor vehicles takes them from the rail head in the direction which involves an increase rather than a decrease of danger. Frequently, • as he tells us, the motor columns must do their work at night, because they form the targets of the long range guns and aeroplanes of the enemy. The motors work as far forward as it is possible to take roads upon which they can travel. We also know that in an advance when all the back areas are being heavily bombarded the roads are in the process of being made good almost as fast as the troops go forward.
In another chapter he describes the .motor casualty parks, filled with the ruins of transport, which tell "a tale of sacrifice and death, written in blood and
agony in many an unsung field. . . This mudspattered and sanguinary mass of wreckage is a grim and ghastly gallery that pictures the heroism of the Army Service Corps."
'Yet one more reference may be made to Mr. Marcosson's book, in support of the same inevitable conclusion. He tells us something of the work of the mobile repair shops. These be compares with the breakdown cars used in connection with street railways, •hut he points to the essential difference that the one is not under fire, while the other "is exposed to nearly all the dangers incurred by the fighting armies."
There is, of course, nothing particularly new in all this. The facts upon which Mr. Marcosson touches are known to us all, but they are worth repeating here because, as already stated, they represent the impressions formed upon the spot by an impartial observer really engaged in examining into our system of supply and transport with a 'view, to familiarizing his compatriots in America with the facts as to what our motor vehicles and the men in charge of them have to do at the Front.