ONE HEARS That Gwynns make their own wind.
10th October 1918
Page 3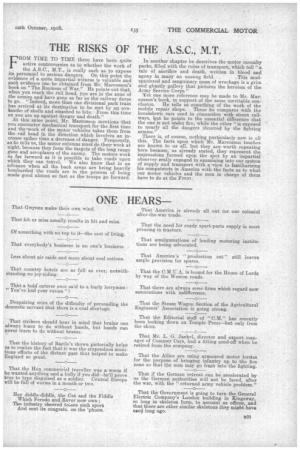 Page 3, 10th October 1918 —
ONE HEARS That Gwynns make their own wind.
Close
That hit or miss usually results in hit and miss.
Of something with no top to it—the cost of living. That everybody's business is no one's business.
Less about air raids and more about coal rations.
That country hotels are as full as ever, notwithstanding no joy-riding.
That a bold' caterer once said to a burly lorryman : "You've had your ration " I
Despairing cries of the difficulty of persuading the domestic servant that there is a. coal shortage.
That .strikers should bear in mind that brains can always learn to do without hands, but hands can never learn to do without brains.
That the history of Bartle's shown pictorially helps US to realize the fact that it was the stupendous Munitions efforts of the distant past that helped to make England so great.
That the Hun commercial traveller was a worm if he wanted anything and a bully if you did—he'll prove true to type disguised as a soldier. Central Europe will be full of worms in a month or two.
Hey diddle-diddle, the Cat and the Fiddle Which Ferodo and Rover now own ; The industry cheered to-see such sport And sent its congnats. on the 'phone. That America is already all out ior our colonial after-the-war trade.
That the need for ready apart-parts supply is most pressing in tractors.
That amalgamations of leading motoring institutions are being advocated.
That America's "production cut" still leaves ample provision for spares.
That the C.M.U.A. is bound for the House of Lords by way of the Weston roads.
That there are always some firms which regard new associations with indifference.
That the Steam Wagon Section of the Agricultural Engineers' Association is going strong.
That the Editorial staff of " C.M." has recently been looking down on Temple Press—but only from the skies.
That Mr. L. G. Jaekel, director and export manager of Commer Cars, had a fitting send-off when he retired from the company.
That the Allies are using armoured motor lorries for the purpose of bringing infantry up to the fire zone so that the men may go fresh into the fighting.
That if the German retreat can be aecelerated by us the German authorities will not be faced, after the war, with the "returned army vehicle problem."
That the Government is going to turn the General Electric Company's London building in Singsway,_ so long in skeleton form, to account as offices, and that there are other similar skeletons they might have usecl long ago.