POST-WAR PROSPECTS FOR MOTOR VEHICLES.
10th October 1918
Page 2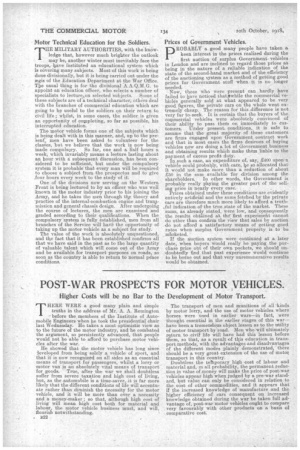 Page 2, 10th October 1918 —
POST-WAR PROSPECTS FOR MOTOR VEHICLES.
Close
Higher Costs will be no Bar to the Development of Motor Transport.
THERE WERE a good many plain and simple truths in the address of Mr. A. A. Remington before the members of the Institute of Automobile Engineers when he took the presidential chair last Wednesday. He takes a most optimistic view as to the future of the motor industry, and he combated the argument, so persistently advanced, that people would not be able to afford to purchase ,motor vehicles after the war.
He showed that the motor vehicle has long since developed from being solely a vehicle of sport, and that it is now recognized on all sides as an essential means of transport for passengers, whilst a lorry or motor van is an absolutely vital means of transport " for goods. True, after the war we shall doubtless suffer from Severe taxation and high cost of living, but, as the automobile is a time-saver, .it is far more likely that the different conditions of life will accentuate rather than diminish the necessity for the motor vehicle, and it will be more than over a necessity and.a, money-maker ; BO that, although high cost of living will mean high cost both for material and labour, the motor vehicle business ratigt; and will.
flourish notwithstanding. '
The transport of men and munitions of all-kinds by motor lorry, andthe use of motor vehicles where horses were used in earlier wars—in fact, were thought essential in the earlier stages of this war-have been a tremendous object lesson as to the utility of motor transport by road. Men who will ultimately return to civil life will have had this lesson before them, so that, as a result of this education in transport methods, with the advantages and disadvantages of the different modes plainly demonstrated,' there should be a very great extension of the use of motor. transport in this country. Doubtless the temporary high cost of labour and material and, in all probability, the permanent reduction in value of money will make the price of post-war vehicles appear high when judged by a pre-war standard, but value can only be considered in relation to the cost of other commodities, and it appears that if the increased knowledge of •manufacture and the higher efficiency of cars consequent on increased knowledge obtained during the war be taken full .advantage of, post-war motor vehicles ought to compare very favourably with other products on a basis of comparative cost.