Striking a balance in Perthshire
10th November 1967
Page 152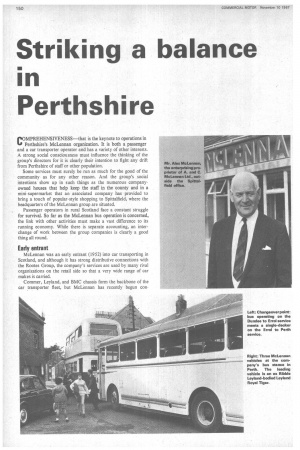 Page 153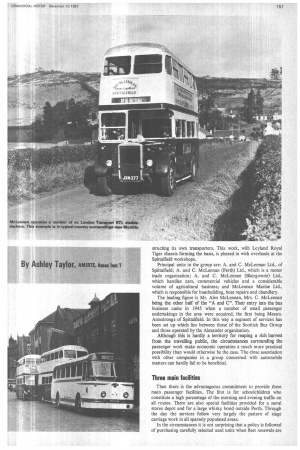 Page 154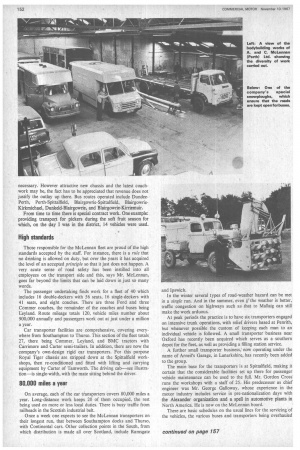 Page 155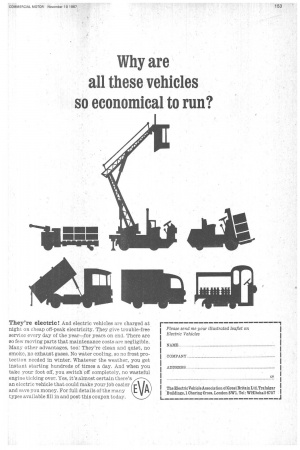 Page 152, 10th November 1967 —
Striking a balance in Perthshire
Close
rOMPREHENSIVENESS—that is the keynote to operations in VI Perthshire's McLennan organization. It is both a passenger and a car transporter operator and has a variety of other interests. A strong social consciousness must influence the thinking of the group's directors for it is clearly their intention to fight any drift from Perthshire of staff or other population.
Some services must surely be run as much for the good of the community as for any other reason. And the group's social intentions show up in such things as the numerous companyowned houses that help keep the staff in the county and in a mini-supermarket that an associated company has provided to bring a touch of popular-style shopping to Spittalfield, where the headquarters of the McLennan group are situated.
Passenger operators in rural Scotland face a constant struggle for survival. So far as the McLennan bus operation is concerned, the link with other activities must make a vast difference to its running economy. While there is separate accounting, an interchange of work between the group companies is clearly a good thing all round.
Early entrant
McLennan was an early entrant (1952) into car transporting in Scotland, and although it has strong distributive connections with the Rootes Group, the company's services are used by many rival organizations on the retail side so that a very wide range of car makes is carried.
Commer, Leyland, and BMC chassis form the backbone of the car transporter fleet, but McLennan has recently begun con
structing its own transporters. This work, with Leyland Royal Tiger chassis forming the basis, is phased in with overhauls at the Spittalfield workshops.
Principal units in the group are: A. and C. McLennan Ltd., of Spittalfield; A. and C. McLennan (Perth) Ltd., which is a motor trade organization; A. and C. McLennan (Blairgowrie) Ltd., which handles cars, commercial vehicles and a considerable volume of agricultural business; and McLennan Marine Ltd., which is responsible for boatbuikling, boat repairs and chandlery.
The leading figure is Mr. Alex McLennan, Mrs. C. McLennan being the other half of the "A and C". Their entry into the bus business came in 1945 when a number of small passenger undertakings in the area were acquired, the first being Messrs. Armstrongs of Spittalfield. In this way a segment of services has been set up which lies between those of the Scottish Bus Group and those operated by the Alexander organization.
Although this is hardly a territory for reaping a rich harvest from the travelling public, the circumstances surrounding the passenger work make economic operation a much more practical possibility than would otherwise be the case. The close association with other companies in a group concerned with automobile matters can hardly fail to be beneficial.
Three main facilities
Then there is the advantageous commitment to provide .three main passenger facilities. The first is for schoolchildren who constitute a high percentage of the morning and evening traffic on all routes. There are also special facilities provided for a naval stores depot and for a large whisky bond outside Perth. Through the day the services follow very largely the pattern of stage carriage work in all sparsely populated areas.
In the circumstances it is not surprising that a policy is followed of purchasing carefully selected used units when fleet renewals are necessary. However attractive new chassis and the latest coachwork may be, the fact has to be appreciated that revenue does not justify the outlay up there. Bus routes operated include DundeePerth, Perth-Spittalfield, Blairgowrie-Spittalfield, BlairgowrieKirkmichael, Dunkeld-Blairgowrie, and Blairgowrie-Kirriemuir.
From time to time there is special contract work. One example: providing transport for pickers during the soft fruit season for which, on the day I was in the district, 14 vehicles were used.
High standards
Those responsible for the McLennan fleet are proud of the high standards accepted by the staff. For instance, there is a rule that no drinking is allowed on duty, but over the years it has acquired the level of an accepted principle so that it just does not happen. A very acute sense of road safety has been instilled into all• employees on the transport side and this, says Mr. McLennan, goes far beyond the limits that can be laid down in just so many words.
The passenger undertaking finds work for a fleet of 40 which includes 16 double-deckers with 56 seats, 16 single-deckers with 41 seats, and eight coaches. There are three Ford and three Commer coaches, the remainder of the coaches and buses being Leyland. Route mileage totals 120, vehicle miles number about 900,000 annually and passengers work out at just under a million a year.
Car transporter facilities are comprehensive, covering everywhere from Southampton to Thurso. This section of the fleet totals 27, there being Commer, Leyland, and BMC tractors with Carrimore and Carter semi-trailers. In addition, there are now the company's own-design rigid car transporters. For this purpose Royal Tiger chassis are stripped down at the Spittalfield workshops, then re-conditioned and fitted with lifting and carrying equipment by Carter of Tamworth. The driving cab—see illustration—is single-width, with the mate sitting behind the driver.
80,000 miles a year
On average, each of the car transporters covers 80,000 miles a year. Long-distance work keeps 20 of them occupied, the rest being used on more or less local duties. There is busy traffic from railheads in the Scottish industrial belt.
Once a week one expects to see the McLennan transporters on their longest run, that between Southampton docks and Thurso, with Continental cars. Other collection points in the South, from which distribution is made all over Scotland, include Ramsgate and Ipswich.
In the winter several types of road-weather hazard can be met in a single run. And in the summer, even if the weather is better, traffic congestion on highways such as that to Mallaig can still make the work arduous.
At peak periods the practice is to have six transporters engaged on intensive trunk operations, with relief drivers based at Penrith, but whenever possible the custom of keeping each man to an individual vehicle is followed. A small transporter business near Oxford has recently been acquired which serves as a southern depot for the fleet, as well as providing a filling station service.
A further small transporter business, now operating under the name of Arneil's Garage, in Lanarkshire, has recently been added to the group.
The main base for the transporters is at Spittalfield, making it certain that the considerable facilities set up there for passenger vehicle maintenance can be used to the full. Mr. Gordon Cross' runs the workshops with a staff of 25. His predecessor as chief engineer was Mr. George Galloway, whose experience in the motor industry includes service in pre-nationalization days with the Alexander organization and a spell in automotive plants in North America. He is now on the McLennan board.
There are basic schedules on the usual lines for the servicing of the vehicles, the various buses and transporters being overhauled
They're electric! And electric vehicles are charged at night on cheap off-peak electricity. They give trouble-free service every clay of the year—for years on end. There are so few moving parts that maintenance costs are negligible. Many other advantages, too: They're clean and quiet, no smoke, no exhaust gases. No water cooling, so no frost protection needed in winter. Whatever the weather, you get instant starting hundreds of times a day. And. when you take your foot off, you switch off completely, no wasteful engine ticking over. Yes, it's almost certain there's an electric vehicle that could make your job easier and save you money. For full details of-the many types available fill in and post this coupon today. E A an electric vehicle that could make your job easier and save you money. For full details of-the many types available fill in and post this coupon today. E A