TURIN SHOW
10th November 1967
Page 119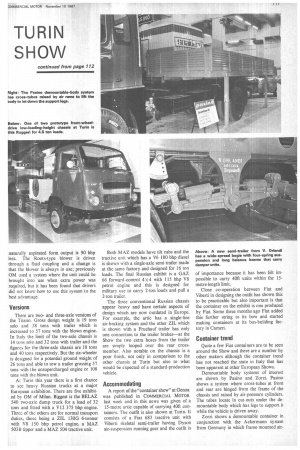 Page 120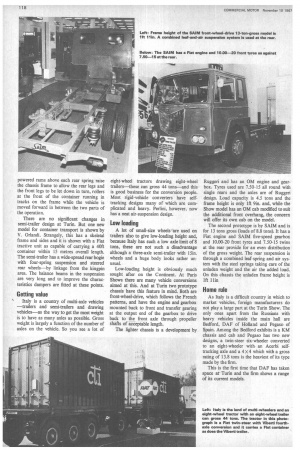 Page 119, 10th November 1967 —
TURIN SHOW
Close
Keywords :
Articulated Vehicles
,
Semi-trailer Truck
,
Dump Truck
,
Semi-trailer
,
Axle
,
Trailer
,
Truck
,
Suspension
,
Viberti
,
Tank Chassis
,
Palletized Load System
continued from page 112
naturally aspirated form output is 90 bhp less. The Roots-type blower is driven through a fluid coupling and a change is that the blower is always in use; previously OM used a system where the unit could be brought into use when extra power was required, but it has been found that drivers did not know how to use this system to the best advantage.
Versions
There are twoand three-axle versions of the Titan°. Gross design weight is 19 tons solo and 38 tons with trailer which is increased to 57 tons with the blown engine. In Italy the limit of the two-axle chassis is 14 tons solo and 32 tons with trailer and the figures for the three-axle chassis are 18 tons and 40 tons respectively. But the six-wheeler is designed for a potential ground weight of 26 tons and able to tow a trailer grossing 57 tons with the unsupercharged engine or 108 tons with the blown unit.
At Turin this year there is a first chance to see heavy Russian trucks at a major European exhibition. There are five exhibited by OM of Milan. Biggest is the BELAZ 540 two-axle dump truck for a load of 32 tons and fitted with a V12 375 bhp engine. Three of the others are for normal transport duties, these being a ZIL 130G 6-tonner with V8 150 bhp petrol engine, a MAZ 503B tipper and a MAZ 504 tractive unit. Both MAZ models have tilt cabs and the tractive unit which has a V6 180 bhp diesel is shown with a single-axle semi-trailer made at the same factory and designed for 16 ton loads. The final Russian exhibit is a GAZ 66 forward-control 4x4 with 115 bhp V8 petrol engine and this is designed for military use to carry 2-ton loads and pull a 2-ton trailer.
The three conventional -Russian chassis appear heavy and have certain aspects of design which are now outdated in Europe. For example, the artic has a single-line air-braking system and the other ZIL which is shown with a Fruehauf trailer has only one connection to the trailer brakes—at the Show the two extra hoses from the trailer are simply looped over the rear crossmember. Also notable on the chassis is a poor finish, not only in comparison to the other chassis at Turin but also to what would be expected of a standard-production vehicle.
Accommodating
A report of the "container show" at Genoa was published in COMMERCIAL MOTOR last week and in this news was given of a 15-metre artic capable of carrying 40ft containers. The outfit is also shown at Turin. It consists of a Fiat 683 tractive unit with Viberti skeletal semi-trailer having Dyson air-suspension running gear and the outfit is
Above: A new seml-trailer from V. Orlandi has a wide-spread bogie with four-spring suspension and long balance beams that carry damper units.
of importance because it has been felt impossible to carry 40ft units within the 15metre-length limit.
Close co-operation between Fiat and Viberti in designing the outfit has shown this to be practicable but also important is that the container on the exhibit is one produced by Fiat. Some three months ago Fiat added this further string to its bow and started making containers at its bus-building factory in Cameri.
Container trend
Quite a few Fiat containers are to be seen around the Show and there are a number by other makers although the container trend has not reached the state in Italy that has been apparent at other European Shows.
Demountable body systems of interest are shown by Pasino and. Zorzi. Pasino shows a system where cross-tubes at front and rear are hinged from the frame of the chassis and raised by air-pressure cylinders. The tubes locate in cut-outs under the demountable body which has legs to support it while the vehicle is driven away.
Zorzi shows a demountable container in conjunction with the Ackermann system from Germany in which frame-mounted air powered rams above each rear spring raise the chassis frame to allow the rear legs and the front legs to be let down in turn, rollers at the front of the container running in tracks on the frame while the vehicle is moved forward in between the two parts of the operation.
There are no significant changes in semi-trailer design at Turin. But one new model for container transport is shown by V. Orlandi. Strangely, this has a skeletal frame and sides and it is shown with a Fiat tractive unit as capable of carrying a 40ft container within 15 metres overall length. The semi-trailer has a wide-spread rear bogie with four-spring suspension and steered rear wheels by linkage from the kingpin area. The balance beams in the suspension are very long and to improve the characteristics dampers are fitted at these points.
Getting value
Italy is a country of multi-axle vehicles —trailers and semi-trailers and drawing vehicles—as the way to get the most weight is to have as many axles as possible. Gross weight is largely a function of the number of axles on the vehicle. So you see a lot of eight-wheel tractors drawing eight-wheel trailers—these can gross 44 tons—and this is good business for the conversion people. Most rigid-vehicle converters have selftracking designs many of which are complicated and heavy. Perlini, however, now has a neat air-suspension design.
Low loading
A lot of small-size wheels are used on trailers also to give low-loading height and, because Italy has such a low axle limit of 8 tons, these are not such a disadvantage although a three-axle semi-trailer with 15in. wheels and a huge body looks rather unusual.
Low-loading height is obviously much sought after on the Continent. At Paris Shows there are many vehicle conversions aimed at this. And at Turin two prototype chassis have this feature in mind. Both are front-wheel-drive, which follows the French patterns, and have the engine and gearbox mounted back to front and transfer gearing at the output end of the gearbox to drive back to the front axle through propeller shafts of acceptable length.
The lighter chassis is a development by Ruggeri and has an OM engine and gearbox. Tyres used are 7.50-15 all round with single rears and the axles are of Ruggeri design. Load capacity is 4.5 tons and the frame height is only lft 9im and, while the Show model has an OM cab modified to suit the additional front overhang, the concern will offer its own cab on the model.
The second prototype is by SAIM and is for 13 tons gross (loads of 8.8 tons). It has a Fiat engine and SAIM five-speed gearbox and 10.00-20 front tyres and 7.50-15 twins at the rear provide for an even distribution of the gross weight. The rear suspension is through a combined leaf-spring and air system with the steel springs taking care of the unladen weight and the air the added load. On this chassis the unladen frame height is lft I lin
Home rule As Italy is a difficult country in which to market vehicles, foreign manufacturers do not play a large part at the Turin Show. The only ones apart from the Russians with heavy vehicles inside the main hall are Bedford, DAF of Holland and Pegaso of Spain. Among the Bedford exhibits is a KM chassis and cab and Pegaso has two new designs, a twin-steer six-wheeler converted to an eight-wheeler with an Acerbi selftracking axle and a 4 X 4 which with a gross rating of 13.8 tons is the heaviest of its type made by the firm.
This is the first time that DAF has taken space at Turin and the firm shows a range of its current models.